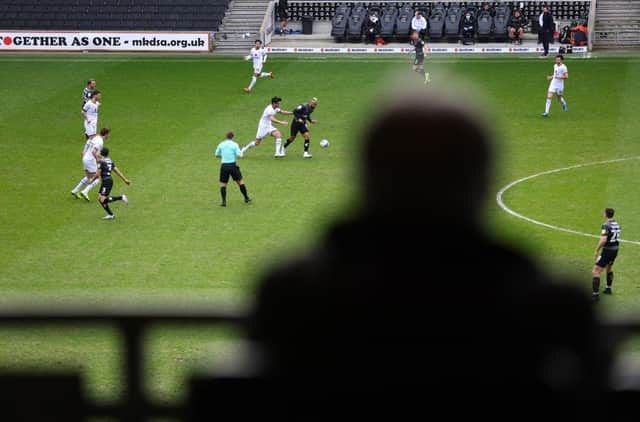 Doncaster Rovers' win-less run was extended to five games at MK Dons. Photo: Richard Heathcote/Getty Images
My review was a shower of praise for Butler and, on the evidence of his first two league games in charge, I even predicted a top two finish with our games in hand!
Fast forward just three weeks and the League One landscape for Rovers looks entirely different.
Our form has fallen from a cliff and the confidence of the side has followed it. Those games in hand are irrelevant now.
In some of the games, it is hard to be critical of Butler.
We went to Crewe and faced an in-form side without a striker in our squad. It was a thoroughly frustrating evening in which even the best managers would have struggled.
There have also been injuries to other key players in this period. Missing Reece James and John Bostock has not helped the cause.
Injuries are not the only thing to blame. It looks like the intensity demanded by Butler could be compromising results.
Some players look burnt out and far from their usual best in terms of decision making and performance. Could a mixture of this and their contract uncertainty be a factor?
Was Butler the right man for the job? Two weeks ago I was a certain yes! Now the decision looks less wise.
With the money pumped in by the board this year it now looks like a wasted opportunity and potentially a very sad end to Andy Butler's Rovers career.
A more established manager may have got more out of the last three weeks and kept the promotion push alive.
My top two prediction now looks more like top 12 and the classic 'we go again next season'. Hopefully I am wrong again!