Entertainment and hard work - Andy Butler wants the highest of standards for his Doncaster Rovers side
He has made it clear from the start - it's 'Gaffer' now, not 'Butts.'
Tuesday, 2nd March 2021, 6:00 am
Andy Butler stood up on Monday morning to address a roomful of men who less than a couple of hours earlier were his team mates.
As everyone present continued to comprehend the departure of Darren Moore to Sheffield Wednesday, Butler addressed the squad for the first time as Doncaster Rovers manager.
And, as he mapped out exactly what he wants from his players, the 37-year-old made it clear that only hard work will do, both in matches and on the training ground, as he looks to build a team in his image and demands the highest of standards.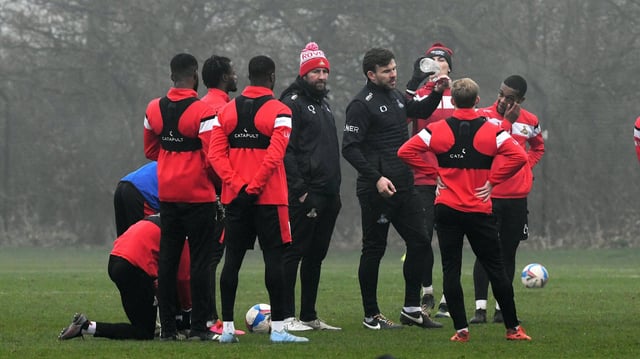 Andy Butler addresses his players on his first day as Doncaster Rovers boss. Picture: Andrew Roe/AHPIX
"As a player I was 100 per cent and I expect nothing less from my players," he said.
"They essentially mirror me now. They represent who I am and what I believe in, and that is all I can ask for.
"If they don't give 100 per cent then there will be someone waiting in the wings who will because we've got a really good squad here, a talented squad.
"You need to be on your toes and ready to step in just in case someone doesn't perform.
"I've said to the players, if you perform then you'll play. That's the message.
"It's not about names, it's about people performing in training and performing in matches.
"It's a clean slate and they're all playing for positions. It's not 'you've played X amount of games so you're guaranteed a start.'
"That's not what I want as a manager. If you're performing well in games and in training, you'll get a chance.
"That's the message I want to give out. I don't want it to become stale, I don't want it to become 'that's the team.'
"If someone is not performing then someone else will come in who will.
"It's about playing for the Doncaster Rovers badge. It's not about playing for yourself, it's about playing for the team.
"It's a team effort, a whole team, whole staff, whole club effort and when you cross that line you're representing Doncaster Rovers."
Butler was not part of the matchday squad for Saturday's defeat at Ipswich Town but watched the game from on high in the gantry at Portman Road, giving him a timely opportunity to analyse the side.
And he spotted areas for improvement on the ball that he is keen to rectify as soon as possible.
"I've told the players I want them to excite me, I want them to express themselves and play with power and purpose," he said.
"Result-wise on Saturday it was disappointing but performance-wise we were okay.
"We dominated possession but without real clinical, threatening chances. We had a few shots.
"It became a bit one-paced. We want to dominate possession and control the game but at the same time I want my team to excite.
"I don't want teams to sit back and get into their shape, I want the ball moving quickly.
"It's about entertainment as well as results and performances."
*