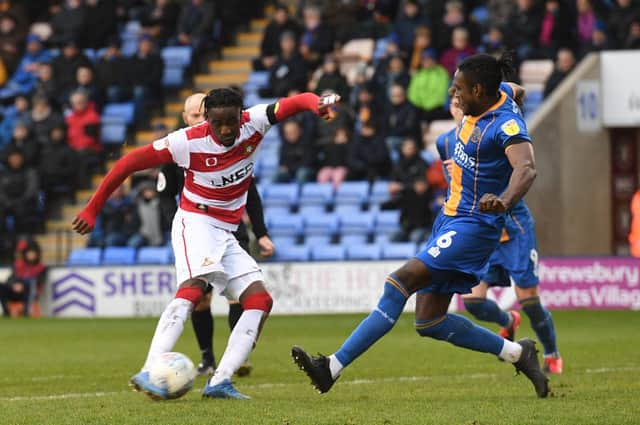 Devante Cole has a shot at goal during Doncastre Rovers' match at Shrewsbury over the weekend
Rovers had something of a taste of what's to come last week when they hit the road twice in the space of seven days with trips to Gillingham and Shrewsbury – and losing out by the odd goal in both.
Moore's side have only four home games left – starting this Saturday against Wycombe – from a total of 12.
In amongst that comes a midweek journey to Portsmouth but despite the challenge that lies ahead, Moore says Rovers will be ready.
"We know what it is, we get on with it, we are conditioned for it, we are ready for it, and it is what it is," he said.
"Yes it is a different season, yes it is a season like no other but it's mapped out in front of us, it is what it is.
"My thing is, you look to the next game and look for a response. The traveling or anything...you move on."
That response will have to be swift and it will come up against a Wycombe side who are in superb form this season. Moore admits there could well be changes to the line-up for that particular clash.
"The team is wide open again, he added. "You look for a good, solid week in training. I select the team off the best performances in the week and that's the way it is."