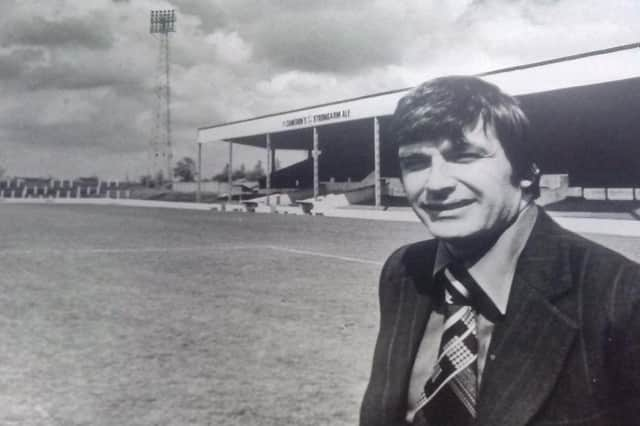 Stan Anderson
Keep an eye on Free Press Sport over the coming weeks as Rovers historian John Coyle profiles the club's best bosses.
By 1936 club captain Fred Emery was very much David Menzies' right-hand man so, when the Scot left for Hull City, it seemed logical that Emery should move into the manager's chair.
Emery had been at Belle Vue since 1924, and his 417 league appearances for Rovers was a club record until beaten by James Coppinger.
He was still playing when the board confirmed him in his new role, although he hung up his boots at the end of the 1935-36 season.
Emery took charge of a Rovers team in Division Two but on the slide after a promising start at the higher level.
Despite avoiding relegation in 1935-36 they failed to record a victory under his stewardship.
His first win did not come until August 1936 when Rovers beat Southampton 2-0.
Despite that they finished bottom of Division Two that season, although by signing forwards Mick Killourhy, Albert Malam and Eddie Perry, Emery had made preparations for the future.
Emery was also in charge of the first Rovers team to travel overseas when they took on the Dutch national side in Rotterdam in October 1936. Rovers lost 2-7 but the players enjoyed their foreign excursion.
Back home, Emery's team enjoyed two good seasons in Division Three (North).
In 1937-38 they finished runners-up, two points behind Tranmere Rovers and some attractive football ensured that attendances remained at Division Two levels.
The following season an even better record saw Rovers again finish second, although some distance behind runaway leaders Barnsley.
In those days only the champions were promoted to Division Two but Rovers began 1939-40 full of optimism.
However, after only three league matches the season was cancelled owing to the outbreak of war.
Despite his long service with Rovers and a decent record as manager, Fred Emery was soon to lose his job.
In July 1940, the Rovers directors decided to dispense with his services as an economy measure.
Although some competitive football matches had been arranged, wartime football had brought with it much-reduced crowds - down from an average of 11,000 in 1938-39 to 3,000. In the circumstances, it was felt that Rovers could not afford a manager.
In 1943 Fred Emery was appointed manager of Bradford Park Avenue, a job he held until 1951.
Avenue were in Division Two and he managed to keep them there until 1950, when they swapped places with Rovers, winners of Division Three (North).
He then moved on to become manager of Carlisle United, who occupied the middle to lower reaches of the Third North throughout his tenure.
In April 1958, he resigned as Carlisle manager and just over a year later, in May 1959, Fred Emery died, just before his 59th birthday.
A great Rovers player might also have been remembered as a great manager had it not been for the outbreak of World War Two.
Senior record with Rovers
First match: 29th February 1936 v Port Vale (away) lost 0-2
Last match: 6th May 1939 v Lincoln City (away) won 5-2
P150, W57, D42, L51, Winning percentage: 38.0%
9 STAN ANDERSON (1975-1978)
Of all the managers employed by Rovers, few have had a greater initial impact than Stan Anderson.
The former England international arrived in February 1974 with Rovers second from bottom in Division Four: by the season's end the club was in a respectable 17th place after a run of nine wins in 16 games.
Anderson was an experienced manager, having been in charge of Middlesbrough between April 1966 and December 1972, where he had taken the club from Division Three to Division Two.
He had also managed the top Greek side AEK Athens and had assisted Gordon Jago at QPR.
A tough-tackling midfielder in his playing days, Anderson had captained each of the North East's "Big Three"- Sunderland, Newcastle and Middlesbrough.
Anderson had the same squad that had won one game out of 12 for caretaker-boss John Quigley (retained as first team coach) but managed to inspire his charges to victory in each of his first five games.
Anderson's reputation as an alchemist was enhanced in 1975-76 when his team reached the quarter-finals of the League Cup before losing at Tottenham.
Anderson had sold winger Terry Curran to Nottingham Forest but had acquired goalkeeper Dennis Peacock and another wide man, Ian Miller, in part-exchange. He also snapped up veteran midfielder Chris Balderstone, but many of his players were those who had appeared in Maurice Setters' struggling sides.
Despite playing some exciting football - a relief to many after years of dourness - Rovers' inconsistency saw them finish 10th in a strong Fourth Division.
Anderson's aim was to bring on some home-grown talent but the progress of the likes of Dave Wignall, Mark Jones, Ian McConville and David Binch was slow, to say the least.
His key man was striker Peter Kitchen, who scored over 20 league goals in three successive seasons but at the end of the 1976-77 season he joined Second Division Leyton Orient.
Again, it had been a season of excitement but under-achievement. Despite Kitchen's 23 goals Rovers could finish only 8th.
With the youngsters showing no signs of a breakthrough, Anderson went for experience at the start of the 1977-78 season.
Defender Ted Hemsley, midfielder Dave Bentley and strikers Bobby Owen, Chris Jones and Dick Habbin were all acquired.
After a poor start to the season Rovers enjoyed a revival up to Christmas, but thereafter they had a run of only two wins from 18 games.
More significantly, crowds had slipped back to around the 1,500 mark and there were ominous mutterings from those who remained about the manager's increasingly negative tactics.
The poor form continued into the 1978-79 season, with only four victories from the first 18 games. After a home defeat by York City in November 1979, Anderson decided enough was enough. He resigned and took up an offer to work under Ian Greaves at Bolton Wanderers.
Stan Anderson's time at Belle Vue remains difficult to assess. When he left in 1978 Rovers were almost back to where they were when he joined, with low crowds and the threat of applying for re-election. In between, his sides had played some thrilling football and Rovers had enjoyed their best-ever League Cup run.
Anderson's main problem was that no home-grown youngsters had established themselves during his reign and he was forced to rely on older players whose best days were behind them. For that reason, Anderson's tenure could perhaps be described as interesting but ultimately unsatisfying.
Anderson continued to live in the Doncaster area until his death in 2018, aged 85.
Senior record with Rovers
First match: 8th February 1975 v Torquay United (home) won 3-0
Last match: 18th November 1978 v York City (home) lost 1-2
P192, W73, D51, L68, Winning percentage: 38.0%