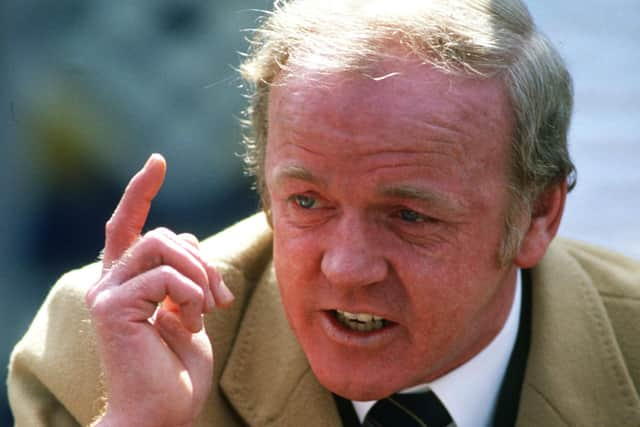 Billy Bremner. Photo: Bob Thomas Sports Photography via Getty Images
Keep an eye on Free Press Sport over the coming weeks as Rovers historian John Coyle profiles the club's best bosses.
Doncaster Rovers Managers: The Top Ten
6 Billy Bremner (1978-85, 1989-91)
In November 1978 Rovers' board made an ambitious appointment. The man chosen to succeed Stan Anderson was to be Billy Bremner, the former Leeds United and Scotland captain.
Not since the appointment of Peter Doherty had Rovers chosen such a famous personality to manage them: not since Doherty's appointment had they chosen so well.
Bremner's record at Leeds included league championship and FA Cup winners' medals and he had also won 54 full caps for Scotland.
A small, skilful player, Bremner was most noted for the passion, spirit and determination he brought to his play.
In short, he was a winner and he was determined to be a winner as a manager.
Bremner's strategy was to blend youth and experience: he gave opportunities to youngsters like Daral Pugh, Steve Lister, Shaun Flanagan and Ian Snodin.
At the same time, he signed veterans including Hugh Dowd, Alan Little, Ian Nimmo and Alan Warboys.
The strategy took time to bear fruit, but in 1980-81 Rovers won promotion from Division Four, finishing in third place.
The team was neither the best nor most exciting to grace Belle Vue, but its spirit was unquenchable.
11,373, Rovers' biggest league gate since 1975, saw the 2-1 win over Bournemouth in May that clinched promotion.
The next two seasons, in Division Three, were difficult and after just surviving in 1981-82, Rovers were relegated a year later.
Bremner regrouped and rebuilt for 1983-84, keeping the core of young talent - the Snodins, Lister, Billy Russell, Glenn Humphries and Colin Douglas - and adding the experienced Bill Green, Ernie Moss and Andy Kowalski.
Moss and Douglas formed a fine partnership, netting 30 league goals between them.
Rovers were defeated only twice at home and after a thrilling battle with eventual champions York City, they went up in second place.
Bremner was helped by the financial backing of Peter Wetzel, a clothing manufacturer who had recently joined the Board.
He financed the signings of defender John Philliben, plus midfielder Jim Dobbin and striker Alan Brown.
Those signings suggested Rovers were serious about making progress in Division Three and they did so, finishing 14th but at times threatening to break into the promotion places.
Highlights of the season came in the FA Cup, with a 1-0 home victory over First Division QPR followed by defeat to eventual league champions Everton in the fourth round.
Events off the field conspired to halt Rovers' progress.
The club had to sell the Snodin brothers (Ian to Leeds, Glynn to Sheffield Wednesday) in order to finance urgent ground improvements.
Bremner reinforced his defence and Rovers began 1985-86 unbeaten in seven games.
However, in October 1985 Bremner was offered the job at his former club Leeds United and left Rovers after seven years in charge.
His second spell came with Rovers in different circumstances, having been relegated to Division Four in 1988 and having endured a dreadful couple of seasons under Bremner's former playing rival, Dave Mackay.
The mood at the club was lifted but results were slow to follow.
Rovers reached the Northern Final of the Football League Trophy in 1989-90, just missing out on a first trip to Wembley, but finished only 20th in Division Four.
The next season was better, and Rovers led the table on three occasions before falling away in the second half of the season.
After a disastrous start to 1991-92, Bremner decided enough was enough, resigning in early November 1991.
That was the end of his managerial career, although he worked as a radio pundit before his early death, aged 54, in 1997.
He deserves to be remembered as one of Rovers' finest managers.
Senior record with Rovers
First match (first spell): 2nd December 1978 v Rochdale (home) won 1-0
Last match (first spell): 19th October 1985 v Bristol Rovers (home) lost 0-2
First match (second spell): 19th August 1989 v Exeter City (away) lost 0-1
Last match (second s pell): 26th October 1991 v Cardiff City (away) lost 1-2
P487, W170, D122, L195, Winning percentage: 34.9%
Join the discussion: Who's the best Rovers manager in your opinion? Email your thoughts to [email protected]