AFC Bentley, Thorne Colliery and Harworth Colliery get 'Champions League' invite
AFC Bentley, Thorne Colliery and Harworth Colliery have been invited to play in a 'Champions League-style' tournament following the abandonment of the Central Midlands League Premier North season.
Tuesday, 23rd March 2021, 6:00 pm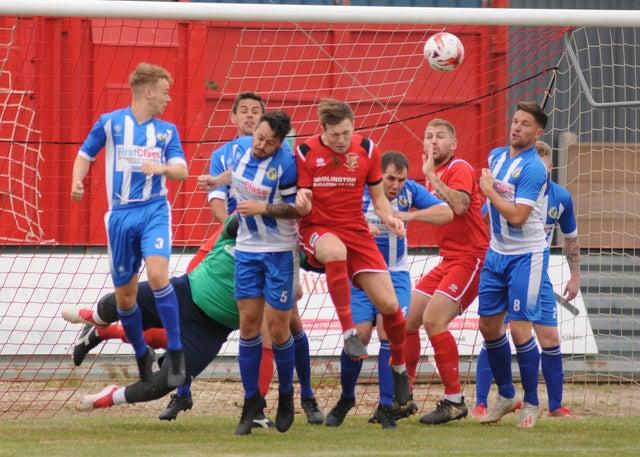 Thorne Colliery in action at Bridlington. Photo: Dom Taylor
The league said it was left with no alternative but to cancel their north and south top flights because clubs did not wish to play into June.
Grassroots football at Step 7 and lower can resume from March 29 in line with the government's easing of current lockdown restrictions but practicalities have led to the widespread abandonment of leagues across the country.
Instead, Premier North and South clubs have the option of playing in the Chairman's Cup – which will bridge the gap between now and next season.
AFC Bentley were sat third in the 15-team Premier North table, two points behind Clay Cross Town and Retford United, while Harworth were fifth and Thorne were seventh.
Division One North, which includes Bessacarr, Thorne Colliery Development and Harworth Colliery Reserves, will be played to a conclusion because the league is smaller and there is time to fit in all the fixtures.
"We are keen to complete the divisions (Division One North, South and Central) because we want to offer the champion club in each division promotion to the Premier Division (subject to ground grading etc)," the Central Midlands League said in a statement.
"However – we will NOT force clubs to take part in concluding the season if they decide against it.
"Should any club decide not to play on, their record will be expunged from the division but at this stage, it will not be treated as a resignation.
"Instead, the club goes into "hibernation" until the pre-season for 21/22.
"Should any clubs withdraw after the re-commencement of fixtures then normal rules and discipline measures will apply.
"Should for any reason the leagues not be completed, the league reserve the option of declaring positions on a PPG basis if required."
The format of the Chairman's Cup is dependent upon the number of entrants but the league hopes to split teams into groups of five or six teams, playing either eight or ten matches, before a Round of 16, quarter-finals, semi-finals and final.
There will also be a Plate competition for teams who fail to qualify from their group.
It is hoped the Chairman's Cup will start on April 10, with the final to be held on May 29.