'A subtle yet significant change in mindset' - How Andy Butler's Doncaster Rovers differ from Darren Moore's
Andy Butler's version of Doncaster Rovers was never going to be a drastic departure from that of Darren Moore.
Wednesday, 3rd March 2021, 1:03 pm
The new Rovers boss has spoken plenty of times of sharing belief in some of the same core principles as his predecessor and how he implemented those while in charge of the Belles.
So there was the expected familiarity about Rovers in their first game under Butler's stewardship, one which ended with a 2-1 triumph over promotion rivals Portsmouth
But it was not entirely the same. And after a difficult run with some disappointing performances, the tweaks were entirely positive.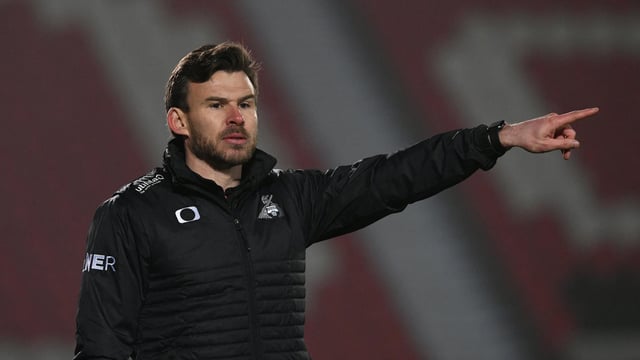 Andy Butler
The most apparent difference was a slight yet significant change in mindset.
Butler sent his team out in the same 4-2-3-1 system Moore kept faith with throughout his tenure. There was pace in wide areas, a focal point up front and playmakers in the sitting midfield roles.
There was also a familiar determination not to waste possession, to play out from the back, to keep the ball away from the opposition and to control the tempo of the game.
But the collective approach to doing that had visibly altered.
Without falling into the trap of going direct, they appeared driven by the desire to go forward at every opportunity and do so quickly.
In stark contrast to the long periods of sterile possession Rovers had during Saturday's defeat to Ipswich Town, there was a real aggressive purpose to the play and it was thoroughly entertaining.
Butler said he wanted his players to get in the faces of the opposition and they did that.
When Rovers moved into the Portsmouth half, the back four pushed up too and were often over half way. Full backs positioned themselves as wide forwards while wide forwards made themselves available inside.
Even in defending set pieces there was an aggressive response. Three Rovers players sat on the half way line, forcing Portsmouth to leave players back.
The whole approach unsettled a typically resolute Portsmouth side throughout the first half, particularly with the passing accuracy out from midfield pair John Bostock and Matt Smith, who both operated 10 to 20 yards further forward than they previously did when Rovers were in possession.
In defence, there was still a determination to play out from the back but it contained a welcome streak of pragmatism as the ball was fired well away from danger when the heat was turned up.
Getting in the faces of the opposition was not just confined to attacking. There was a bite to defensive play and the sort of combative edge in the midfield that has been absent in recent times.
On the style meter of former Rovers managers it was tipping more towards the McCann end than the Moore.
The goal conceded to John Marquis in added time was sloppy as he was too easily allowed to pull away from his marker in a gentle reminder not to assume one swallow makes a summer.
But overall, this was a intriguing glimpse into what life under Butler could be like - and a successful one too.
*