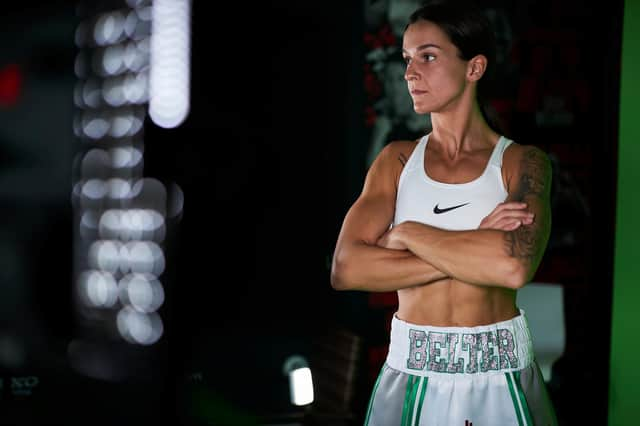 Terri Harper at Matchroom Fight Camp. Picture: Mark Robinson
Her rapid rise to world title glory, driven by a string of impressive performances in front of an ever-growing audience, has made the Denaby Main fighter one of the most talked about names in British boxing.
Her status saw her deemed ready to take top billing on a televised card for the first time. Her name was enough to bring live televised boxing back to Doncaster for the first time since Jamie McDonnell became world champion at the Keepmoat in 2013.
But what would have been an emotional and exciting homecoming was put on ice by the Covid-19 pandemic.
Terri Harper at Matchroom Fight Camp. Picture: Mark Robinson
The first defence of Harper's WBC super featherweight title against one of her idols and former Olympian Natasha Jonas - the first ever all-British female world title fight - had been due to take place at The Dome on April 24.
Instead, it will be held on Friday night, in the garden of Matchroom Boxing's headquarters in Essex.
A raucous and partisan home crowd will be replaced by a quiet hum, generated by those permitted to be present by virtue of their essential personnel status.
Boxing's bid to remain relevant and prominent in a vastly altered sporting landscape has forced such restaging.
But amid all the changes, Harper's own status has remained. If anything, it has grown with an intensifying spotlight.
The 24-year-old has been placed front and centre of Matchroom's Fight Camp series. Arguably, her's is the most publicised bout of the first three weeks of the special series of events.
Harper's rise from Denaby chip shop worker to one of the leading female fighters in the world - a down to earth story for a woman with a personality to match - and rapidly growing status as a sporting icon in the LGBT community has caught the imagination.
It helped her land a guest spot on BBC's A Question of Sport and put her at the centre of an advertising campaign for Sky Sports.
This weekend she has the opportunity to maintain her incredible momentum by dealing with the challenge of Jonas, in what looks to be the last chance saloon for the former amateur stand-out.
Harper's continued rise has brought learning experiences at every turn. The long build-up to this bout has been no different.
This week has seen her put through the rigours of being involved in the 'bubble' that was required for such an event taking place. Covid-19 testing, isolation and being based entirely in a hotel for the last few days has only intensified the build-up of pressure that comes on fight week.
But then there has also been the attempts to sow seeds of doubt over her standing as one of the country's leading fighters.
There have been claims from the other side that Harper has overtrained for the fight, having taken little or no break even after the original date was postponed.
And then there were rather unedifying rumours, happily spread in the most public of forums by Jonas' outspoken trainer Joe Gallagher, that Harper was floored in sparring.
Mind games are part of the package the higher a fighter climbs up the pecking order and Harper will be determined to brush them away on Friday night.
Then would come potential showdowns with those shouting her name in order to give themselves a leg up to world level - chiefly former US Olympian Mikaela Mayer.
Victory this weekend, with the wider British boxing public watching on, will only intensify the spotlight in which Harper finds herself and cement her standing.