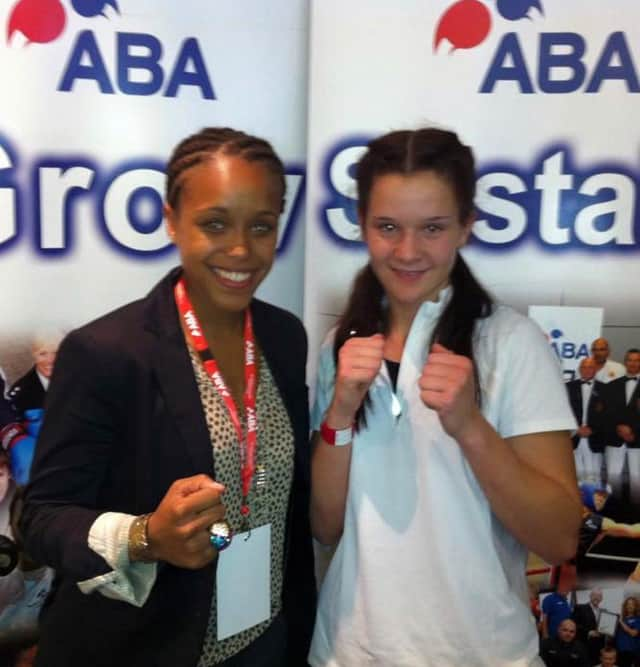 Terri Harper with Natasha Jonas nine years ago
As a highly promising junior amateur, Harper was an admirer of Jonas, who was among the first group of female fighters that became household names after competing at the London 2012 Olympics.
And now the Denaby Main star will look to cement her status as the leader of the next wave of British female fighters when she faces the veteran at The Dome on April 24.
The signing of the bout sparked Harper into digging out an old photograph of her posing with Jonas after winning her second national title.
But she insists that is as far as the sentiment will go, with the 23-year-old determined to treat Jonas as any other opponent.
"She was around when I was a young amateur and one of the top elite amateurs," Harper said.
"I can remember one of the times when I won a youth championship she was there presenting medals.
"The fact I get the chance to fight her, it's a pretty surreal moment.
"I'm going to just take it as any other opponent and go out on the night to perform."
Harper is now deep into preparations for the fight - and admits she has been glad to focus purely on training.
Her victory over Ewa Wahlstrom last month to add the WBC super featherweight crown to her IBO title catapulted her into prominence and brought a major increase in attention.
Requests for interviews, personal appearances and promotional work flooded in.
And while admitting she has enjoyed the experience, it only made her crave the routine of a training camp.
"I got away straight after the fight and away from the madness but as soon as I got back I was pulled from pillar to post," he said.
"I was over in Manchester last week doing Question Of Sport.
"It's all fun, all good experience and I'm enjoying it.
"The training camp has started but all the appearances will stop after this week and I will be fully knuckled down, concentrating on the fight."
"I want to get back into my routine, getting up and going to the gym, coming back for my nanny nap and then going back to the gym.
"The focus is there now."