Trail of fire as arsonists torch three cars in Doncaster in 24 hours
Arsonists set a trail of cars alight over the weekend as firefighters were left dealing with three separate blazes across Doncaster in less than 24 hours
Monday, 14th June 2021, 10:50 am
Arsonists are set a trail of cars alight over the weekend as firefighters were left dealing with three separate blazes across Doncaster in less than 24 hours
The first incident saw firefighters from Thorne station called out to a deliberate car fire at 1.15am on Saturday morning on Cowick Road, Fishlake.
The crew left the scene at 2am.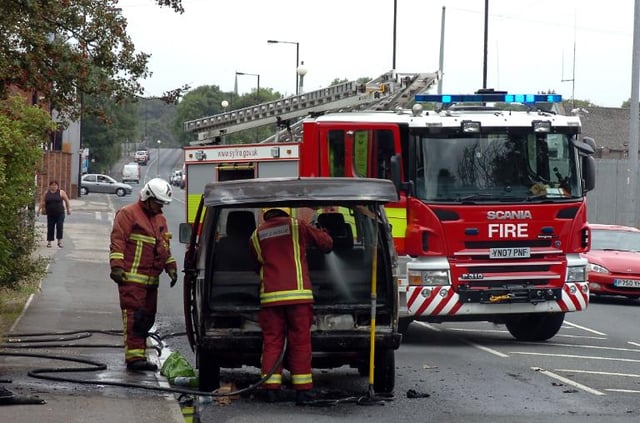 File picture of car fire
Then Doncaster firefighters were called out to a deliberate vehicle fire at 9.45pm on Saturday evening at Middle Bank, Lakeside, Doncaster. The crew left the scene at 10.25pm.
Thorne firefighters were out again when another car was set alight at at 12.50am on Sunday on Pilkington Road, Kirk Sandall, Doncaster. The crew left the incident at 1.35am.
Firefighters across South Yorkshire are asking the public to help them crack down on deliberate fires across the county, by reporting incident details to a new fire line.
In response to the 3,900 deliberate fire incidents they were called to in last year, South Yorkshire Fire & Rescue has joined up with the national charity, Crimestoppers.
FireStoppers, which works in the same way as Crimestoppers, allows the public to anonymously report any information they have on deliberate fire-setting.
Call 0800 169 5558, or use an online form – www.firestoppersreport.co.uk. Once reported, the details will be anonymised and used as part of fire and police investigations.
Figures show that Doncaster was the worst hit area, with 1116, followed by Rotherham with 1053, Barnsley with 989 and Sheffield with 787.
In these confusing and worrying times, local journalism is more vital than ever. Thanks to everyone who helps us ask the questions that matter by taking out a subscription or buying a paper. We stand together. Liam Hoden, editor.