Queues and packed pubs as thousands return to Doncaster as lockdown is eased
Shoppers and drinkers have returned to Doncaster in their thousands with town centre streets packed on the first day of the lifting of lockdown restrictions across England.
Monday, 12th April 2021, 2:20 pm
Queues built up outside a number of shops, pubs, cafes and hairdressing salons with people keen to enjoy their first taste of freedom in months.
Streets which have been eerily deserted for months were bustling with shoppers of all ages as non-essential shops, beauty salons, gyms and pub beer gardens were all allowed to re-open in the latest easing of Covid-19 restrictions across the country.
Bargain hunters were queueing around the block at discount clothing store Primark with the line of shoppers stretching along the Market Place, St George Gate and even onto Church Way at one stage.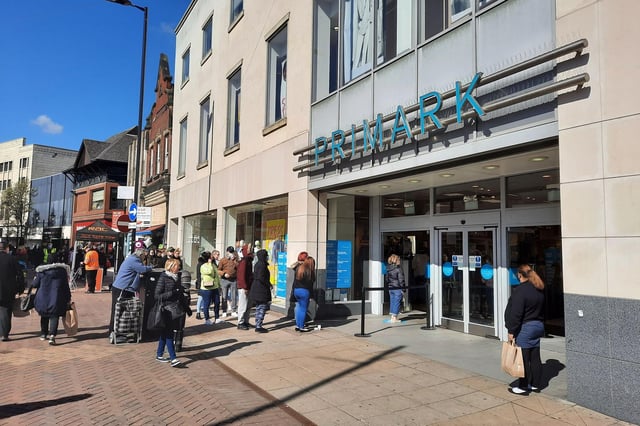 Queues build up outside Primark in Doncaster.
Gaming store CEX in Printing Office Street also had a queue snaking down the street outside while a number of town centre barbers were also reporting brisk business with customers braving the cool air but bright sunshine as they waited patiently to get a haircut.
Roads were also busy, with queues developing along East Laith Gate as shoppers headed into town while Wheatley Hall Road was also congested as people headed to the Wheatley Retail Park.
And there were busy scenes at some pubs too – although not all town centre bars have yet re-opened their doors.
A queue was in place outside the Red Lion in Market Place while in Hall Gate, drinkers made the most of the sunshine to enjoy the beer gardens at O'Donegan's Irish bar and The Hall Cross.