'This is the power of devolution' – Mayor announces massive £860 million stimulus plan for South Yorkshire
South Yorkshire mayor Dan Jarvis along with the region's council leaders are set to approve a massive spending stimulus package of £860 million to haul the region back from the Covid-19 crisis.
By
George Torr, Local Democracy Reporter
Friday, 12th March 2021, 11:37 am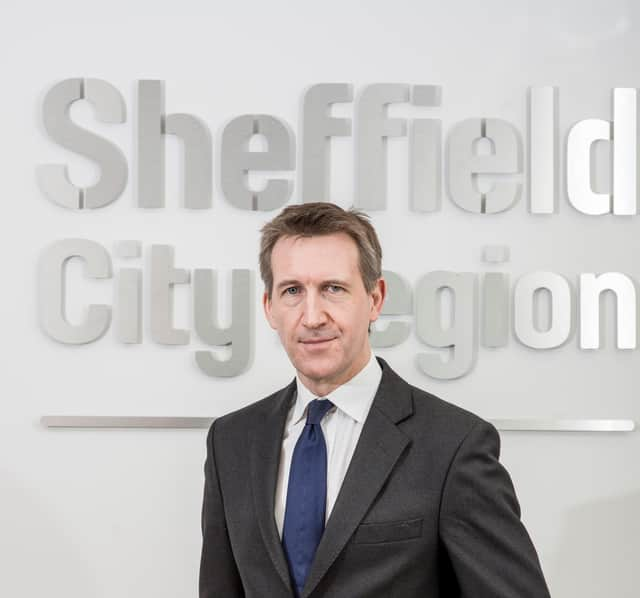 Sheffield City Region Mayor Dan Jarvis MP
Following an agreement with the Treasury, the mayor will borrow £500 million against what it receives in gainshare funding.
Around £300 million is planned for investment in places, transport and infrastructure and another £200 million of borrowed money will be invested in jobs and skills from 2022.
These pots of borrowed money will be called the 'South Yorkshire Renewal Fund.
The mayor said he and local leaders were 'rewriting the rule book' to meet the 'seismic economic challenge' posed by Covid-19.
A further £358 million for South Yorkshire will support the creation of jobs, apprenticeships and helping people secure work.
This pot will also aim to help businesses, revamp high streets, build new homes and improve active travel making it easier to cycle and walk.
Plans also include retrofitting of homes and approving flood defences.
This includes the MCA's first year's use of 'gainshare', with investment in infrastructure, flood defences, buses and active travel.
Sheffield City Region Mayor Dan Jarvis said: "Extraordinary times call for extraordinary measures. Despite the challenges Covid-19 throws at us, our plan sends a crystal-clear message of ambition and confidence that South Yorkshire is open for business and ready to prosper.
The Government may not be willing to back our region, but local leaders and I will not stand by and let our potential be squandered.
"That's why we're rewriting the rule book, using powers and resources secured from Westminster, to invest in our people, our businesses and our towns and high streets.
"This is the power of devolution: it means we can deliver on the priorities of our people: jobs, apprenticeships, better buses, new flood defences, stronger transport links and revitalised high streets and town centres.
"We're working to create a stronger, greener, fairer South Yorkshire for all – delivering not just recovery, but renewal. Not just a bigger economy, but a better one.
"We know South Yorkshire's people and industry rightly have enormous pride in our story so far. We're reinforcing our reputation as the heartland of British industry and innovation, and we're making our region an even better place to live, work and invest."