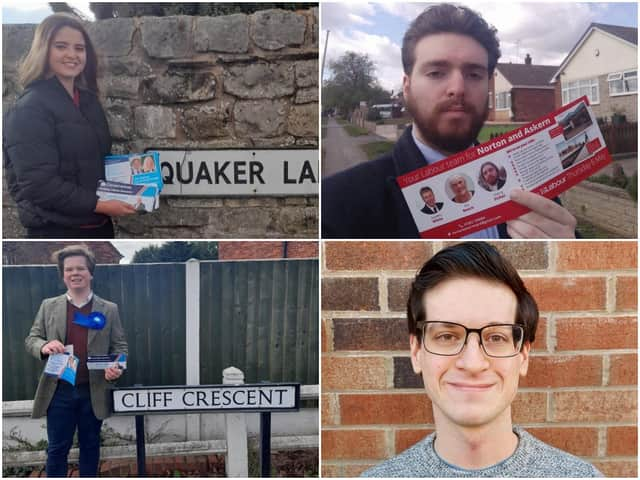 Young candidates for the Doncaster council elections on May 6. (Clockwise from top left) Olivia Essem, Harry Fisher, Rob Dennis, Joe George.
The Local Democracy Reporting Service spoke to four candidates all aged under the age of 24, many recent graduates of university and part of the so-called 'Generation Z'.
With many young people on the ballot paper May 6, it could potentially be the youngest Doncaster Council in many years with a variety of candidates in their early 20s.
Joe George
Rob Dennis, a Labour candidate in the Finningley ward
Standing for the Conservatives in Edlington & Warmsworth, he first became interested in politics from an early age. After a brief stint in UKIP, he left and joined the Tories aged 15 and said the Brexit referendum really fired up his passion for politics.
Now aged 20, the Warmsworth native he could become the youngest member of Doncaster Council if elected.
"I made it clear that I didn't want to be a paper candidate in a ward that was miles from my house, I wanted to represent the area where I grew up," he said.
"I want to stand because I don't think Edlington & Warmsworth has had adequate representation for many years. I just want to make people's lives better for people in my area where I live."
Young candidates for the Doncaster council elections on May 6. (Clockwise from top left) Olivia Essem, Harry Fisher, Rob Dennis, Joe George.
A student of history and politics, he said his political influencers were Benjamin Disraeli, Robert Peel and more from more present times, David Davis where he said he could relate to someone in the party coming from a working class background.
Joe said age didn't really matter to him and that if people saw you were passionate about the area, it shouldn't matter.
"I've never really thought about my age to be honest, It's only really occurred to me because people have pointed it out but I think politics at all levels needs young people."
Full list of Edlington & Warmsworth candidates (two councillors to be elected)
The young candidates are looking to secure their places in the chamber at the Civic Office.
Conservative: Joe George, Carol Greenhalgh. Labour: Phil Cole, Kirsty Lenham. Edlington & Warmsworth First: Rob Reid, Keri Anderson. Green Party: Toby Crane.
Harry Fisher
Fisher's political interest came from contacting his constituency MP some years ago over arrangements with education.
The 21-year-old, who has Autism, said his family got in touch with Ed Miliband over problems with the correct support during his time in education.
"We sent a letter to Ed's office and he sorted it out for us right away – that's what actually made me get into politics," he said.
A freelance web developer and photographer outside of politics, Harry said his political influencers from the Labour party are Harold Wilson, John Smith and Ed Miliband.
Harry, standing in Norton & Askern for Labour, has served as a parish councillor in Stainforth. He said his love of community meant he wanted to become an elected member of Doncaster Council at such a young age.
"I'm interested in doing better for my community, I want to help scrutinise social services, that's something that's very relevant to me," he said.
"I just like doing community work in general, like being a parish councillor in Stainforth where, where I used to live.
"I love getting to know people and doing something good for the area that I live in, and connecting with people, helping them out when possible. There's just something really rewarding about that."
Full list of Norton & Askern candidates (three councillors to be elected)
Conservative: Thomas Noon, Sean Poulter, John Whiteside. Labour: Iris Beech, Austen White, Harry Fisher. Green Party: Alison Briggs. Independents: Simon Epton, Frank Jackson.
Olivia Essem
Olivia's real political intent started at Sixth Form. Picking politics at A Level turned into something more real than studying ideology and structures across the globe.
A recent graduate from Durham University and a blackbelt in martial arts, Olivia said it was important that young people were better represented in politics at all levels.
The 21-year-old said her experience through grandmother running a community centre sparked the sense of community which is important in local level of politics.
"Once I started learning more about politics, I realised the things that I cared and were passionate about were related to politics and from then I was just hooked instantly.
"My granny used to run the local community house in Balby and that was always really important to me, the sense of community. So it just came naturally to me when I once I started actually thinking about what politics actually is, and linking politics and community together."
She was chosen to stand in the Hatfield ward for the Conservatives and hopes young people like her standing will change perceptions that politics is not just for older generations.
"I think all politics needs more young people, we need to be represented," she said,
"I think for me, getting started young is about gaining experience and learning from the older people because the older people will eventually move on so I think starting young for me it's just about breaking stereotypes first of all.
"We need to let more young people know that politics is for us and we can get involved to make a difference."
Full list of Hatfield candidate (three councillors to be elected)
Conservative: Olivia Essem, Emma Adams, Neil Srivastava. Labour: Duncan Anderson, Linda Curran, Glynis Smith. Green Party: Rob Nicholas. Independents: Mick Glynn, Jessie Credland, Mark Broadhurst.
Rob Dennis
Rob has been around politics most of his life. The Blaxton-born, 24-year-old civil servant said his dad being a town council clerk introduced him to what went on at the most local level of politics very early on.
He followed his dad into parish council politics and thinks he may have become the youngest chair of a town or parish council in the country when he was 22.
Standing in Finningley for Labour, Rob enjoys watching Liverpool FC and going to gigs when restrictions allow.
He's not a fan of idolising politicians but said he likes Gordon Brown and made special mention of UK rapper and author Akala and said he had been a big influence on the issue of race.
Improving the relationship with residents and the council and tackling public transport problems are big issues he wants to address.
On why he wants to be a borough councillor, he said: "It's come from growing up in Doncaster and seeing the issues my peers were dealing with in school such as family issues or mental health impacts.
"It's also thinking that the current services available to people either nationally or locally are just aren't up to scratch. I'm just trying to look at what could be done to improve in the area."
Full list of Finningley candidates (three councillors to be elected)
Conservative: Jane Cox, Steve Cox, Richard Allan Jones. Labour: Sue Lister, Rob Dennis, Paul Caunce. Green Party: Harrison Balme. Liberal Democrats: Joshua Brignall-Morley.
*