Financial loss of bailed out private firm running Doncaster markets described as 'worse then expected' by council
A private company that took over the running Doncaster's markets reported a financial loss despite the council handing them a six-figure bailout package.
Friday, 4th June 2021, 4:40 pm
Essex-based Markets Asset Management (MAM) was awarded a 25-year contract to operate markets in Doncaster and Mexborough town centres in 2019.
But the following year, Doncaster Council's cabinet agreed to give the firm £910,000 due to 'Covid-19 pressures'.
Council bosses said the firm told them that without the public funding, the operation would be 'unsustainable'.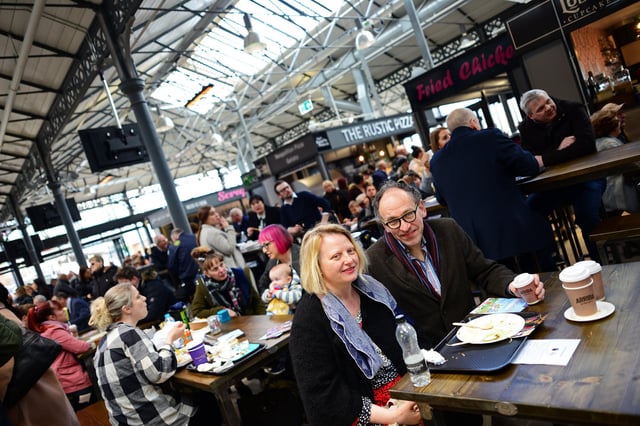 Doncaster Wool Market, officially opens after being redeveloped. Picture: NDFP-26-03-19-WoolMarket-9
But in new documents seen by councillors, DMBC bosses said MAM Doncaster reported a loss of close to £100,000 in their latest published accounts which were 'worse than the expected position when the assistance was agreed'.
Other statistics show that from April 2019, stall occupancy in Doncaster town centre went up from 77 per cent to 82 per cent. But in Mexborough during the same period, this fell from 95 per cent to 85 per cent.
Figures also show Doncaster's Marketplace had a footfall of 80,000 people before the pandemic hit and following lockdown, this fell to less than 20,000.
Latest figures provided by the council show this has risen to around 30,000 by March 31, 2021 but this is expected to be much higher now many restrictions have been lifted.
Improvement plans for the wider estate included works to convert redundant retail units into a new main stage and satellite bars in Wool Market with new seating aiming to boost covers and traders' income potential.
Plans are also underway to undertake enabling works for the planned redevelopments across the Doncaster estate focusing on Sunny Bar development, Market Vaults, Outdoor Markets and Lock Ups.
Sennette Wroot, senior policy and insight manager at DMBC, said: "Doncaster and Mexborough Markets have continued to provide people with access to fresh, healthy food and on both estates traders have been able to remain open throughout when selling fresh food and essential retail.
"During the summer easing of restrictions the Wool Market ran booking and table ordering systems to ensure capacity control and social distancing. During lockdowns many Wool Market food outlets have operated takeaways.
"Traders have responded to changing consumer demands, with more widespread adoption of contactless payments, social media marketing and delivery service than ever before.
"Plans are in place to replace the Mexborough roof. This work will be carried out by the council and will have a significant positive impact to the estate overall.
"MAM has filed their accounts at Companies House for the trading year 2019-20.
"The accounts show a loss of £99,195 which is worse than the expected position when the assistance was agreed.
"Monthly income and expenditure reports and quarterly management accounts for the trading year 2020-21 are being provided as part of the regular client meetings."
Doncaster Council's cabinet decided in 2019 to allow council officers' preferred bidder, Essex-based Market Asset Management (Doncaster) Ltd, to run the markets.
The firm is responsible for staffing, management and maintenance.
Local authority bosses have said at the time that the move would save the council £219k per year which included a 'guaranteed annual income' of £122k.
In these confusing and worrying times, local journalism is more vital than ever. Thanks to everyone who helps us ask the questions that matter by taking out a subscription or buying a paper. We stand together. Liam Hoden, editor.