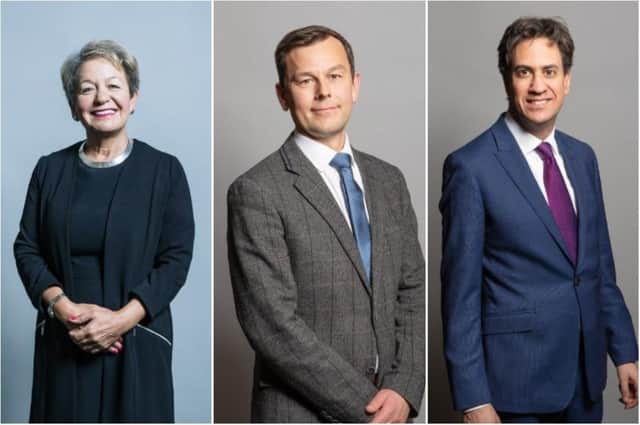 MPs representing Doncaster constituencies: Dame Rosie Winterton, Nick Fletcher and Ed Miliband
The Register of Members' Financial Interests as of November 1, 2021 shows Conservative Don Valley MP Nick Fletcher submitted a number of monetary declarations away from his work as an MP including income from a number of properties.
Labour Doncaster North MP Ed Miliband has declared he received just under £80,000 for a book he penned which was published earlier this year.
Doncaster Central MP Rosie Winterton did not declare anything in The Register of Members' Financial Interests.
The second jobs of MPs have been placed under the spotlight after former minister Owen Paterson was found to have broken lobbying rules.
Questions have also been raised about the Conservative MP and former attorney general Sir Geoffrey Cox, who earned around £900,000 last year through his work as a lawyer – some of it in the British Virgin Islands.
Mr Fletcher, a trained electrician, has been a director of Analogue Electronics Ltd in Harworth near Doncaster since 1994.
In the parliamentary register of interests, Mr Fletcher has declared he receives a company car, mobile phone and health insurance totalling £800 a month until August 2024 in association with his role with the Harworth company.
He also declared a £4,000 donation to the Doncaster Conservative Party from the Carlton Club in London, a short walk from Buckingham Palace and the House of Commons.
The club is an exclusive, members-only organisation founded in 1832 and was the original home of the Conservative party.
Mr Fletcher also declared he has four houses and two flats in South Yorkshire with a value of over £100,000 and/or give a rental income of over £10,000 a year.
These are held by a partnership called G&N Properties with Mr Fletcher and his wife.
The Don Valley MP also submitted he had a further two houses and two flats in South Yorkshire held by J&L Properties (Doncaster) Ltd.
Under the subheading of 'Shareholdings: over 15 per cent' of issued share capital', Analogue Electrics Ltd, J&L Properties (Doncaster) Ltd and G & N Properties were declared by Mr Fletcher.
Labour's Ed Miliband declared he received £38,950 advance for his book manuscript: GO BIG: How To Fix Our World and the same amount again for an advance on hardback publication of his book.
A further £1,230 was given to Mr Miliband for recording the audiobook element and another £105 from the BBC for participation in BBC Radio 3's The Verb.
Responding to the declarations, Mr Fletcher said: "Something very apparent to me is that we need MPs with a variety of different backgrounds and expertise. After all, the ever-widening nature of the issues Parliament deals with could not be sufficiently addressed if every MP has a similar experience to one another.
MPs having a wide-range of professional backgrounds MPs is something that should be desired.
"The fact that some MPs choose to carry on practising as GPs, nurses or lawyers when they are not attending to their Parliamentary duties is often a good thing. It ensures that representatives continue to have a foot in the door in the real world and better understand some of the issues affecting certain sectors.
"I myself continue to have a say in the company that I set up, which ensures that I continue to have a close ear to the concerns of our local business community. This is something I know individuals who run their own businesses in Don Valley appreciate when they come to me with a problem.
"However, I understand that for many people, an MP's salary is already high enough. I agree with this sentiment.
"However, it should not be forgotten that individuals must continue to practice in some professions to keep their qualifications. To outright ban MPs from having second jobs would result in there being fewer GPs.
"Equally, the salary of an MP would be considered uncompetitive in the fields of law and finance. To deny MPs who have a background in these areas would only lead to some of the brightest and most experienced individuals deciding to not enter the world of politics at all, therefore denying Parliament this wealth of expertise.
"This would make our entire Parliament poorer and do nothing to ensure that the House of Commons works more effectively for the public in formulating and scrutinising legislation.
"It is clear from recent events that the current system of MPs taking second jobs needs to be discussed openly, and representatives belonging to all parties should be open to reform.
"However, despite some media reporting on the issue, this is a nuanced topic that needs much thought and debate. Any knee jerk reactions to recent events would not be wise."
A spokesman for Mr Miliband added: "Ed was paid for writing a book about ideas to make our country fairer and better, including building more social housing, tackling the climate crisis and improving rights for working people."
MPs can have second jobs as long as they are not a minister.
More than 200 MPs have received earnings in the last year on top of their £81,932 annual salary. The extra income ranges from £50 a year to almost £1 million.
MPs must publicly declare any additional income, along with gifts, donations and shareholdings over 15 per cent.