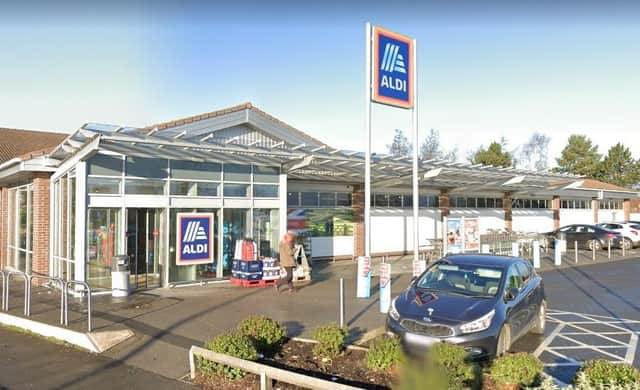 Aldi
Bosses of Aldi supermarket on Barnsley Road in Scawsby have asked council planners to amend the times lorries can deliver produce and bring it in line with other stores in the borough.
The site today was granted planning permission back in March 2013 and Aldi bosses want the council to allow them a 'trial period' which would initially allow deliveries until 11pm.
But the proposal has prompted six formal objections to the plan from residents in the area.
Some of the comments from residents mention that some deliveries were already arriving as early as 530am and as late as 1130pm. Others said that homes so close to the site boundary were already kept awake by deliveries.
The comments come after the supermarket was found to be breach of the agreed delivery times back in February 2021 after complaints from nearby residents.
At the moment, no vehicles may arrive, depart, be loaded or unloaded, within the general site except between the hours of 7am and 6pm, Monday to Saturdays and 9am and 4pm on Sundays and Bank Holidays.
The condition was put in place for the interests of the noise levels to surrounding residential properties.
But Aldi now wants to vary the wording of this condition to allow a temporary 'trial' period for 12 months to extend the opening hours to 7am – 11pm Monday to Saturday, and 8am – 8pm on Sundays.
Following the 12 month period if agreed, the delivery hours would revert to: Monday – Saturday 7am – 9pm and 9am – 6pm on Sundays and Bank Holidays.
The amended wording is in line with the delivery condition attached to the permission for another Aldi store within the borough.
Council planners said the application was being presented to councillors due to significant public interest and that it is recommended for approval.
Planning officer Jessica Duffield, said: "The hours proposed on the permanent basis following the 12 month period are considered to be a low risk amendment to the delivery hours.
"There will be no change to the morning hours; bank holiday times will be retained and only a limited alteration to the evening. This is considered to be appropriate.
"The same condition has been attached to another Aldi store within the borough which has residential properties within a similar distance to the application site."
*