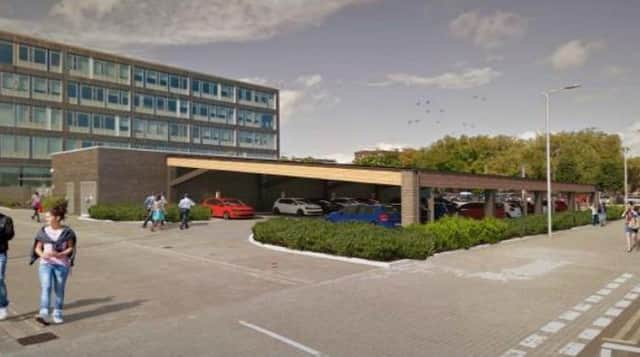 The proposed design for a new council car park
The 20-space lot, on a piece of land close to Civic Office in Waterdale, will be brought to the planning committee on Tuesday, March 30.
The site is currently used as a contractor's compound and the wider plans will include a solar panel canopy covering the area.
The solar canopy will be approximately five metres high at its highest point and 3.2 metres high fronting College Road. The overall size of the development is 45 metres long by 21 metres wide.
The new parking location will aim to support the recent investment in the electrification of the council's fleet with charging infrastructure and to provide access for the 'efficient collection and return of vehicles' for Civic Office and town centre based staff.
The sale of the Council House car park required the DMBC to relocate its fleet of 39 pool cars and other vehicles to a new location within the town centre. This site will provide 20 spaces with an EV charge point shared between making a total of 10 charge points.
The council's fleet will consist of 39 EVs, the other 19 being parked at the recently approved development at the former Scarborough House site.
DMBC Urban Design team did expressed concern the car park was to be built on a site identified as having the potential for offices.
But they recognised that the current office market is challenging in the town centre and there are other more important sites where new offices may be focused.
Planning officer Nicola Harworth, said: "The proposed car park is located to the rear of the Civic Office on land currently used as a contractor's compound. The site lies within an Office Policy Area where such uses are assessed on their merits, with regard to highway safety and the relationship of the site to surrounding uses.
"Having considered the planning merits of this application, the development is judged not to cause harm to neighbouring properties, the highway network or the wider visual amenity of the area and there are no material planning considerations that would demonstrably indicate that the application should be refused. The proposal is recommended for approval."
*