Photos show damage to train smashed into by stolen car in Doncaster
This is the damage caused to a high speed train after it was smashed into by a stolen car in Doncaster.
Tuesday, 15th June 2021, 3:27 pm
The LNER Azuma suffered bodywork damage and a broken window after a black Range Rover ploughed through a fence and into the side of the express as it hurtled through Rossington level crossing on Sunday night.
Police and railway officials are still probing the smash which saw the driver of the car flee the scene after miraculously escaping serious injury.
Dramatic footage from the incident shows the car ploughing into a fence and then into the side of the train as both vehicles are enveloped in a cloud of debris and dust.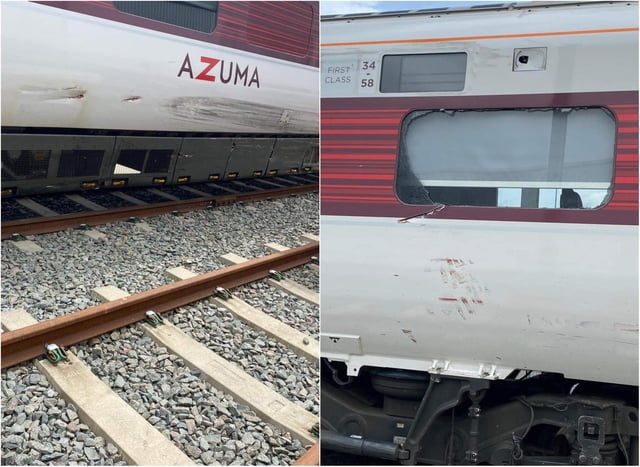 The damage caused to the Azuma train after it was hit by a stolen car in Doncaster.
Fortunately, the train – which can travel at speeds of up to 125mph – was not derailed in the incident shortly after 8pm on Sunday night, averting a potential major tragedy.
However, the collision caused widespread disruption on the East Coast Main Line with Network Rail employees working overnight to repair the damage to the fence and restore the level crossing to working order by Monday morning.
The train was immediately taken out of service and is now undergoing repair.
Incredibly, no one in the vehicle or on the train was injured, although pictures show the car was wrecked beyond repair.
Meanwhile, South Yorkshire Police are hunting the driver of the vehicle
A spokesman said: "A Range Rover which is believed to have been stolen, left the road from West End Lane, Rossington and crashed through the security fencing at Rossington railway crossing, colliding with a train which was passing by.
"The driver of the Range Rover left the vehicle and fled the scene.
"The train continued on the tracks stopping a short time later.
"There were no injuries reported from the train, although it suffered extensive damage and delays on the line.
"Enquiries are ongoing to locate the driver of the vehicle, anybody with information should contact the police on 101 quoting incident number 1015 of 13 June."
British Transport Police inititally said that a car had been 'clipped' by the train on the level crossing.