Three Doncaster sisters take on triathlon to say thank you to hospital for lifesaving care
Three sisters from Sprotbrough took on a triathlon to say thank you for the care middle sister, Abigail, received when she was diagnosed with cancer at just five-years-old.
Thursday, 3rd June 2021, 9:41 am
Olympic Gold Medallist and patron at Sheffield's The Children's Hospital Charity Dame Jessica Ennis-Hill even sent a message of support after hearing of the challenge, which has already seen the sisters raise over £2,000.
In November 2016 Abigail's mum, Jo, noticed her daughter was incredibly pale, had low energy and started to have nosebleeds. Abigail was taken to her local doctor who ran some blood tests.
Mum Jo said, "Abigail went from being a ball of energy to wanting to be carried and holding my hand because she couldn't keep up with her sisters, we knew something was wrong."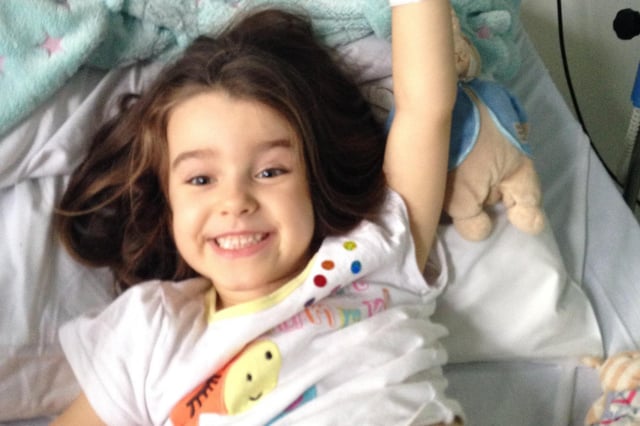 Abigail during treatment at Sheffield Children's
"The blood tests came back and showed that Abigail had incredibly low haemoglobin levels and we were transferred straight to Sheffield Children's."
Once at Sheffield Children's, the family met the team from the Cancer and Leukaemia Ward who quickly diagnosed Abigail with Acute Lymphoblastic Leukaemia.
Acute Lymphoblastic Leukaemia is a type of cancer that affects white blood cells.
Ellena, Isobel and Abigail on their bikes ready for the triathlon
Jo continued: "Within twelve hours of arriving at hospital, Abigail was in and out of theatre to check her blood levels, we had been given the diagnosis and we were being told about the chemotherapy she would need. It was like the bottom fell out of our world.
"It's the sort of thing that never happens to you, you read about it, and you think you won't experience anything like this yourself. We were terrified that she wouldn't live and at five-years-old, how do you explain to her what is happening? The fear was all consuming and we would have done anything to stop it and protect Abigail from it all."
Abigail went on to have daily chemotherapy for three years, having treatment at hospital and also at home, through oral treatment administered by her parents.
Abigail and mum Jo ringing the bell on the Cancer Ward at Sheffield Children's
Jo continued: "Abigail took it all in her stride and showed us the way, she was a force to be reckoned with. The staff on the Cancer and Leukaemia Ward were amazing, they provided entertainment whilst she had treatment and supported us all. The doctors explained everything to her, so she didn't fear things, and everyone was so kind. The whole place was just amazing."
In 2019, after three years of chemotherapy and treatment, Abigail rang the ward bell to mark the end of treatment.
Two years on and nine-year-old Abigail and sisters, Isobel (11) and Ellena (7) decided to take on a triathlon or as they aptly named it, a Tri-Abi-Thon to say thank you for the care Abigail received.
They have so far raised over £2,000 and last week embarked on their challenge to complete a 10-mile walk, followed by a 10-mile bike ride and then swimming 10 lengths of a pool, in under 24 hours.
Ellena, Isobel and Abigail on their bikes ready for the triathlon
Money raised through will go towards the charity's appeal to transform the Cancer and Leukaemia Ward where Abigail received her treatment.
The charity is raising money to make the ward bigger and brighter with en-suite bedrooms and space for a parent to sleep more comfortably alongside their child. The redevelopment will also see most bedrooms face Weston Park, providing natural light for patients experiencing long stays.
In these confusing and worrying times, local journalism is more vital than ever. Thanks to everyone who helps us ask the questions that matter by taking out a subscription or buying a paper. We stand together. Liam Hoden, editor.
Abigail after she rang the bell