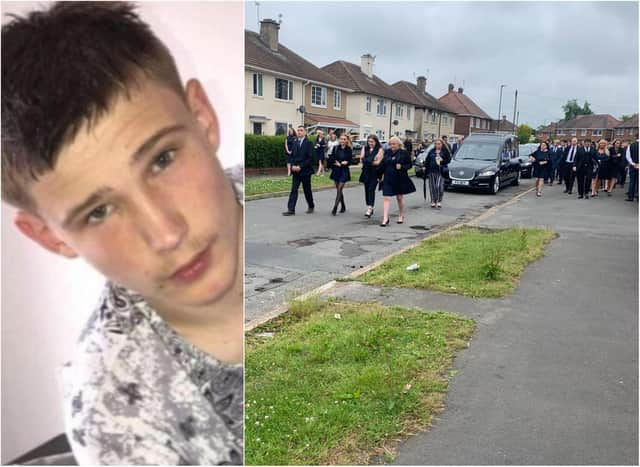 Friends and family led Owen's cortege off Clay Lane Estate.
Friends and family – including his younger sister Layla and older sister Brooke and dad Mark - led the cortege from outside his home in Clay Lane, with locals coming out in force to pay their respects to the teenager as his engraved and flower strewn white coffin passed by.
And grieving mum Natalie Savage has paid tribute to those who came out to pay their respects to her 'blue eyed baby boy' for the service at Barnby Dun church, with one mourner describing it as a send-off 'fit for a king."
Hundreds gathered to pay respects to Owen.
She said: "Everyone walked his final walk through Clay Lane and locals came to see him off. His send off was perfect.
"The funeral brought the neighbourhood to a stand still – he would have loved that."
The mile long cortege snaked its way to the church where the service was relaid on speakers to mourners outside.
Added Natalie: "People laughed and cried and bowed their heads in prayer as Owen was delivered into the loving hands of God.
Friends and family walked Owen's coffin off Clay Lane.
"He has been laid to rest at a beautiful place close by where his friends and family can go and visit his grave. One friend said it was a send off fit for a king."
Friend Sue Wallace also read a handwritten poem at the service to pay tribute to Owen.
Afterwards, friends and family gathered at The Wheatley Hotel to pay tribute to Owen, who died on February 26.
In the days after his death, a Crowdfunding appeal raised nearly £5,000 for his grieving family.
The cortege was guided from Clay Lane Estate by mourners.
Added Natalie: "He has left a hole that will never be filled. He will always be loved and missed. We don't know how to live without him but he would want to see us happy in life so we will do our best to keep him proud of us."
"No family ever expects to lose their beloved son at such a young age, I certainly didn't. My blue-eyed baby boy lost his young life on February 26 to what looks like a huge seizure which caused his heart to fail.
"Seeing how the death of my Owen has touched all your hearts, for him and for us, has not only comforted us, but it has made me realise he was not just mine to love, but he was deeply loved by so many.
"Thank you to Dey's funeral care immensely for all their help and support – they were so supportive every step of the way, delivering their services with genteelness and empathy and also the Flower Basket at Armthorpe who worked miracles to rescue the flowers in just a matter of hours - and also thank you to all our friends and family for their love and support."
Owen was laid to rest in an engraved white coffin.
Many mourners came out for Owen's funeral.
Owen Redfern died in February from a massive seizure.