Kiara the cat reunited with her owner after six years of being missing in Doncaster
Imagine your beloved cat disappears one day; you desperately search your local area, put up posters, spread the word through websites and social media and offer a £200 reward but to no avail.
Thursday, 3rd June 2021, 12:20 pm
Then imagine six years later you receive a call from your local RSPCA branch to say they've had a cat brought in, have scanned it for a microchip and it's brought your details up.
This is what happened to Ilex and her much adored pet Kiara. Kiara had disappeared from the family home without any clue to where she may have gone but despite the amount of time that passed Ilex and her family remained hopeful that they would one day find her and be able to reunite her with her brother, Kovu.
Thankfully this hope came to fruition when a couple brought, what they believed to be, a stray cat into RSPCA Doncaster, Rotherham and District Branch South Yorkshire Animal Centre. Although the cat looked in good health she appeared to be homeless and they were concerned for her welfare. The very first thing the Animal Care team do is check for a microchip and on this occasion they were fortunate to find one. The next step is to contact the owner who is registered on the chip and this is when staff keep their fingers crossed that the chip details have been kept up to date. Luckily Ilex had ensured all the details linked to the chip were correct, so when the centre staff called her to ask if she had lost a cat she couldn't believe after all this time she would be reunited with her much-loved family pet.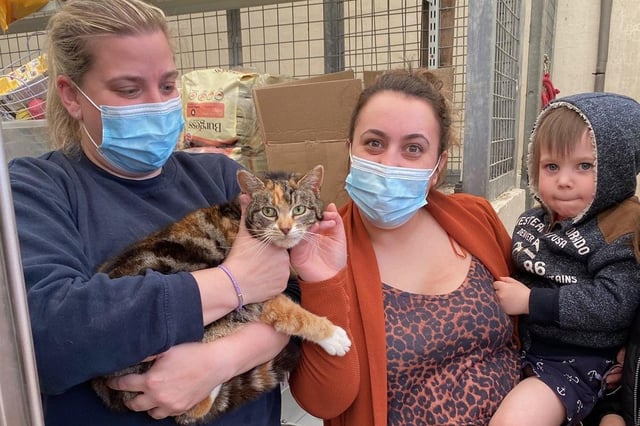 Ilex and her son, who was born during Kiara's absence, are reunited with Kiara
Within half an hour of the call Ilex and her children arrived at the RSPCA branch for what was an incredibly happy and emotional reunion. It transpired that Kiara had been found less than a mile from her family home and despite all the publicity about her disappearance at the time, ultimately it was the microchip that ensured they were reunited.
Ilex had first heard about microchipping when she adopted another cat some years ago from the RSPCA and she said it was a no brainer when they adopted Kiara and Kovu.
It is a legal requirement to have your dog microchipped and the law is changing soon to include cats too. Thousands of pets are lost every year and many are never reunited with their owners - microchipping can help to change that.
How does microchipping work? A tiny microchip is quickly and simply inserted under the animal's skin. This gives the pet their own unique code. The microchip can be scanned and matched to the owner's contact details, which are kept on a database.
Microchipping is only effective if you keep your details up to date. If you move house or change your telephone number you must make sure that you tell the database you are registered with so that they have your up-to-date contact details.
This Saturday, June 5, the animal centre are hosting a microchipping event. Simply turn up between 11am and 3pm (no appointment necessary) to get your pet microchipped for just £10. If you are unable to attend this Saturday the Animal Centre offer the service year round for £12, just call 01302 719790 to book an appointment.
In these confusing and worrying times, local journalism is more vital than ever. Thanks to everyone who helps us ask the questions that matter by taking out a subscription or buying a paper. We stand together. Liam Hoden, editor.