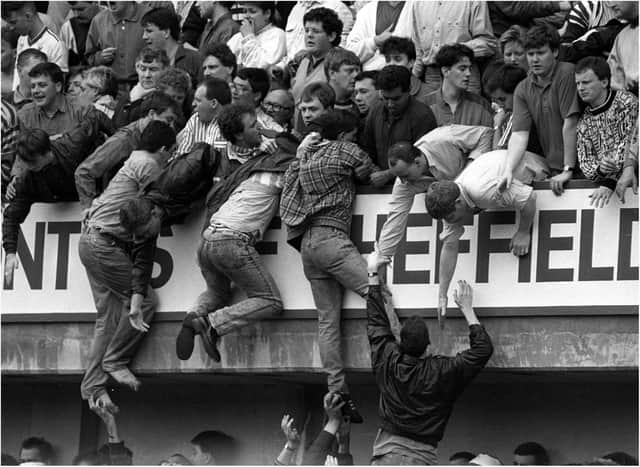 John Griffiths has issued an apology after posting a Facebook comment about Hillsborough.
John Griffiths made comments on Facebook about the 1989 disaster in which 96 Liverpool fans died – and was instantly blasted by Hillsborough justice campaigners after the post came to light.
But Mr Griffiths, who has stood down from his role as assistant manager of Rossington Main Under 35s, in the wake of the controversy has tonight issued a full and frank apology.
Manchester City supporter Mr Griffiths was responding to a Liverpool fan called Paul Cook in a chat about the two clubs in the football 'banter' Facebook group Football Away Days with the message: 'How many of your own friends did you kill at Hillsborough, just asking?"
He said: "I have done something wrong and I accept it. I had already apologised through Rossington Main but I want to say here and now, I am really, really sorry.
"I was very stupid. I have played football all my life I love football and I know I should never have said it.
"I want to apologise not just to the familes of those at Hillsborough, but everyone involved with Liverpool Football Club as know this affects everyone.
"I've got children and I don't want repercussions from this. I've stepped down from my role at Rossington Main and I'm truly sorry for what I've done."
Hillsborough justice campaigner Lorraine Miller had threatened to contact all of Rossington Main's sponsors, urging them to sever links with the club over Mr Griffith's comments.
She had also threatened to contact former Premier League footballer Dean Windass urging him to boycott an event he was attending at the club unless Mr Griffiths made a full apology.
Yesterday Rossington Main said: "The individual that caused offence has stepped down from their role with the over 35's.
"He wholeheartedly regrets his comments that have caused offence to many and wishes to apologise to everyone that it has caused distress to."
"He would also like to go on record for how sorry he is for bringing the club's name into disrepute and apologises to all that are involved with the club."