Friendship scheme helped Doncaster pensioner through the pandemic - she now calls her volunteer best friend and her 'angel against loneliness'
The last 18 months have presented a tough time for anyone living alone but it has hit the elderly and isolated the hardest.
Friday, 18th June 2021, 11:50 am
B:friend is a charity who pairs up volunteers with elderly neighbours who need a little bit of support.
Tracey MacDonald, 54, signed up to become a volunteer in January of 2020.
She was paired with 92 year old Delia Thompson - both women live in Sprotbrough but had never met before.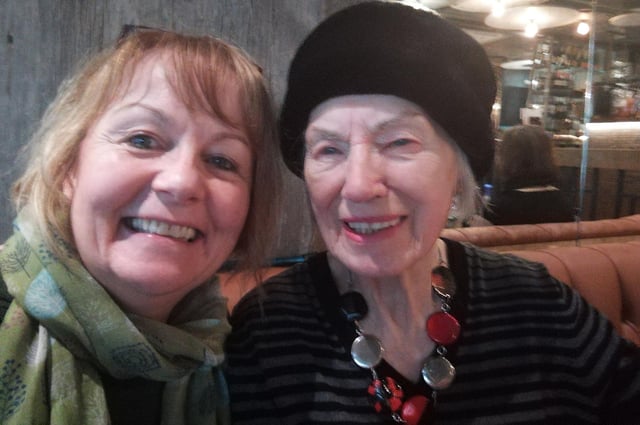 Delia said that Tracey is here angel against loneliness.
"We clicked immediately," Tracey said.
"After the initial first hour we spent together it snowballed into going to the pictures, shopping at Marks and Spencer's and lots of telephone calls.
"We grew a real organic friendship and now we're best friends."
The pair are now best friends.
Luckily the duo had three months where they could get to know one another before the pandemic struck in March, 2020.
"After Covid-19 arrived we were determined to keep seeing each other," Tracey said.
"I would walk my dog by her house and stop to chat or call her whilst standing on the other side of a window so she could see me when we talked.
"We kept the bond going through creative ways."
B:friends is looking for more volunteers.
If not for Tracey the last 18 months may have been much harder for Delia.
Her family don't live locally and there were times due to Covid-19 restrictions when they could not visit her in person.
"I would have been very lonely without her," Delia said.
"She has been my angel against loneliness."
Tracey taught Delia to use video calling on her phone so that they could communicate in a variety of ways during the multiple lockdowns.
She also involved her friends who started to write Delia postcards and letters.
"I just think it's nice to get something through the post," Tracey said.
"When lockdown eased we all met up during the Eat Out to Help Out scheme and all of my friends have become her friends.
"She's bonded with my sons - she even got one of them a house warming gift the other week.
"She's really become the mum I haven't had."
Tracey has gotten a lot out of the B:friends scheme.
She said it has given her the confidence to get a new job where she works with disabled people.
B:friends have supported over 1,000 older people during the pandemic country wide.
This has been compromised of phone calls, virtual activities and packs.
Mike Niles, B:friend founder, said: "The last 18 months have been a unique struggle for each of us and as we begin to restructure our lives, it's crucial we don't leave people behind.
"At a time of disconnection bringing people together in our communities has never been so important.
"We witness befriending transform people's lives every day.
"When someone pops in for a cuppa, or takes time to phone for a chat, it invigorates well being for that older neighbour.
"Thanks to the National Lottery, we will make that a reality for so many more isolated people in Doncaster over the coming years."
They are currently looking for more volunteers to sign up.
In these confusing and worrying times, local journalism is more vital than ever. Thanks to everyone who helps us ask the questions that matter by taking out a subscription or buying a paper. We stand together. Liam Hoden, editor.