Doncaster firm steps in to rescue Saturday League football team
A Doncaster firm has come to the rescue of a Saturday league football team facing a bleak future.
Monday, 21st June 2021, 9:44 am
Updated
Monday, 21st June 2021, 9:45 am
ORB Recruitment has has stepped in to help FC Doncaster which ran into financial difficulties.
The team, which competes in the Doncaster Rovers Saturday League and play at Brodsworth Welfare Woodlands, was left in the lurch when a previous sponsor pulled out at short notice leaving them without the funds to pay the lease on their ground for next season.
But when Stewart Olsen, managing director of ORB Recruitment, heard about the club's plight he stepped in to pay the full year lease providing the financial support they desperately needed.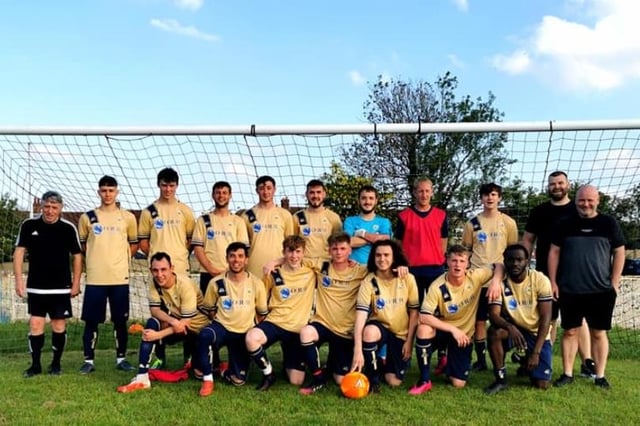 Stewart Olsen (back row, far right), from ORB Recruitment, with the FC Doncaster team
Dave Garbutt, manager of FC Doncaster, said: "We are so grateful to Stewart and the team at ORB Recruitment for their support. Without this sponsorship it would have been touch and go if we would have the money in place to compete next year. COVID breaks and lockdowns severely impacted on our weekly revenue which was small as it was but with no play or monies in for four months the bills still had to be paid and this ran our account to zero. I even had to support the team out of my personal money to keep us afloat.
"We then had our main sponsor pull out which left us seriously worried about the future. But now, thanks to ORB, we have one less thing to worry about and can just concentrate on the football.
"The team only made the transition this season from a successful junior squad into competing in adult football so have been playing at adult level for the first time. It's been a steep learning curve for them and we've had a mixed season but should finish mid table which is a good start for us.
"We are now really looking forward to the coming season with real positivity and hope we can build on what we did this year. Without ORB's generous support I'm not sure we would be able to experience our second season at adult level so can't thank them enough for their amazing contribution. We are determined to do them proud and compete for the top spot in the coming season."
Stewart Olsen, managing director of ORB Recruitment, said: "We initially got involved with sponsoring FC Doncaster to help with some matchday kit but when we heard the bigger financial difficulties they were suddenly facing I just knew we had to do more to help. They are a fantastic young team who have just started playing in the adult league so I know how much this money meant to them and we can't wait to see them on the field next season.
"We are confident they can go from strength-to-strength and the team at ORB will definitely be cheering them on!"
FC Doncaster is now looking for local businesses and sponsors to take up the opportunity of having their own sponsorship board at the ground which provides vital funds to the team to continue their work as well as providing season-long advertising for those who take a board space.
For further information please get in touch with FC Doncaster via their Facebook page or get in touch on email at: [email protected].
In these confusing and worrying times, local journalism is more vital than ever. Thanks to everyone who helps us ask the questions that matter by taking out a subscription or buying a paper. We stand together. Liam Hoden, editor.