Doncaster Council explains why it ditched one way walking system at Lakeside
Doncaster Council has explained why a controversial one-way walking system at a Doncaster beauty spot was ditched just days after being introduced.
Wednesday, 28th April 2021, 10:58 am
Directional signs appeared at Lakeside more than a week ago, urging walkers to follow a one way route around the lake in a bid to reduce transmission of coronavirus.
But the scheme was blasted as 'stupid' and 'ridiculous' by walkers – and earlier this week, council bosses backtracked on the scheme and announced it was being abandoned.
Now authority bosses have explained the reasoning behind the project – and why it was axed.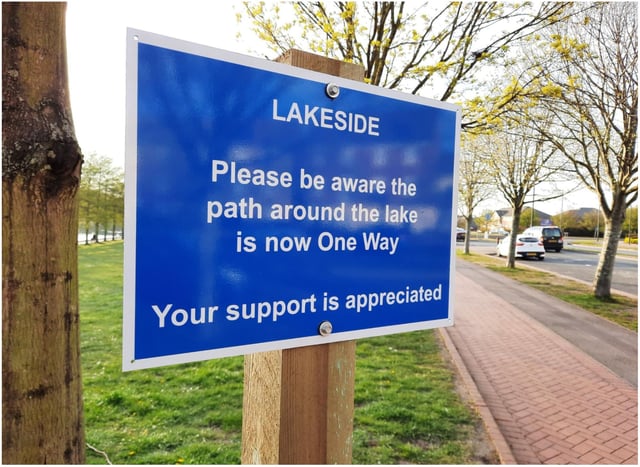 Signs were installed at Lakeside instructing walkers to walk one way.
A spokesman for Doncaster Council said: "Last weekend we installed a temporary one way system at Lakeside.
"Whilst the system was welcomed by some, we had quite a few of our residents contact us to say they were concerned, in particular about the distance required to walk between entrance and exits for people who don't have the ability to walk far and people who use part of the lake as a short cut for commuting to and from work.
"We have reviewed this further, along with Public Heath advice, and we've now made the decision to remove it.
"Whilst the risk of transmitting Covid outside remains low, we still advise people to be careful in busy areas, particularly at 'pinch points' around the lake where the paths are narrow and at busy times such as over the weekend.
"Please enjoy Doncaster's beauty spots and stay safe."
The route has become a popular spot for walkers during lockdown, attracting hundreds of people, especially at weekends.