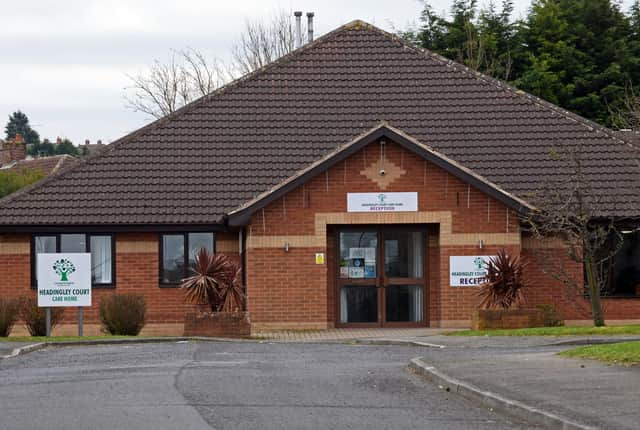 Headingley Court Care Home, Headingley Way, Edlington.
The damning report into the running of Headingley Court Care Home in Edlington found that care, management, safety, effectiveness and responsiveness were all given the lowest possible mark.
The home has now been placed into special measures and will be reinspected again this year.
When contacted by the Local Democracy Reporting Service, care home manager Sarah Archdale, said she did not want to comment on the findings.
Headingley Court Care Home in Edlington
Inspectors from the Care Quality Commission (CQC) found staff 'did not always show concern for people's well-being' and added they observed residents being left with 'no interaction or stimulation for long periods of time'.
But staff told inspectors they did not always get opportunity to spend time with people and they were 'rushed and often short-staffed'. They added that they 'did not feel listened to or supported by the management' to ensure they fulfilled their responsibilities.
Inspectors said staff were seen following the guidance regarding personal protective equipment in relation to the pandemic. However, they were not fully assured by infection control practices and on occasions, staff were 'not washing their hands as frequently as required and not offering to wash people's hands frequently'.
The report also found that residents were sometimes 'deprived of their liberty' and some were 'isolated in their bedrooms with no clear reason why'.
Relatives the inspectors spoke to said proper arrangements had not been put in place to see their relatives during the pandemic. There had been a pod provided, but relatives told them they struggled to hear, and it was not private. Garden visits were 'not even facilitated in the summer'.
Family members of residents also said communication 'had been poor during the pandemic' and were always properly informed of what was happening.
Headingley Court is a care home providing personal and nursing care for younger adults with a physical disability. There were 23 people using the service at the time of the inspection.
A CQC spokesman said: "We identified a closed culture, people did not have their human rights upheld, protected characteristics were not recognised or respected and equality was not promoted.
"We identified breaches in relation to safe care and treatment, consent to care and treatment, person centred care, staffing and governance at this inspection.
"The service is therefore in 'special measures' and this means we will keep the service under review and, if we do not propose to cancel the provider's registration, we will re-inspect within six months to check for significant improvements."
Phil Holmes, Doncaster Council's director of adult social care said: "The council works closely with the CQC and providers wherever concerns or safeguarding issues are identified in services.
"We are aware of this recent CQC inspection and the outcome which we take very seriously.
"The provider has put an action plan in place and we are liaising with both the CQC and the management at the care home to ensure the necessary actions are being implemented to improve the quality of the service to residents."
READ MORE
*