Disabled Doncaster woman facing losing her foot is in urgent need of a ground floor flat
A disabled Doncaster woman who is in fear of losing her foot is calling to be rehoused into ground floor accommodation.
Wednesday, 16th June 2021, 12:14 pm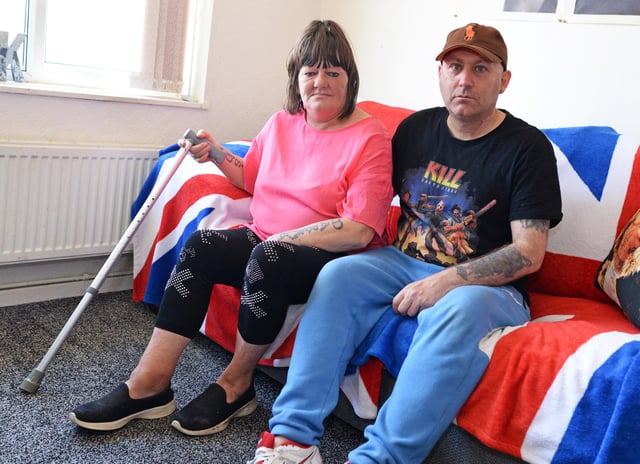 Andrea Jackson, pictured with her partner Eddie Martyn. Picture: NDFP-15-06-21-Jackson 1-NMSY
Andrea Jackson, aged 52, of Grainger Close in Edlington, finds it increasingly difficult to manage the stairs in her first floor flat due to medical issues and says she has had no support from St Leger Homes, which manages the property on behalf of Doncaster Council
Her boyfriend Eddie Martyn, aged 50, who lives in a different flat in the street, explained: "My girlfriend suffered medical negligence two years ago and basically she is now at risk of losing her foot.
"She is living in an upstairs flat and to get up and downstairs is virtually impossible.
Andrea Jackson, pictured. Picture: NDFP-15-06-21-Jackson 3-NMSY
"Doncaster Council came out and they did a review and decided they would put her a stairlift in, it was approved and they sent someone to measure up, and then all of a sudden they changed their minds.
"St Leger Homes are messing her about, they offered her a flat in Mexborough but it was miles away from the shops so it would have left her stranded.
"They've seen photos, and medical evidence."
He continued: "Andrea is waiting for surgery when it is hoped they can fuse her ankle but at the moment from her toes to her knee is dead.
"They don't seem to care for a company who says it's disabled aware.
"She's desperate and we feel we are being discrimimated against.
"I'm in a downstairs flat and I said I would swap but they said we couldn't because there are two steps to get in, yet she has to go up 13 steps in her own flat!"
A spokesman for St Leger Homes said: "We always do everything we can to help people find the best home possible for their needs.
"Unfortunately we are not able to meet all the demand for our properties. Where people have very specific needs due to perhaps medical conditions or specific location needs it does take us longer to be able to offer a suitable property.
"In such circumstances we stay in contact and try to help the person find suitable accommodation either with us or another appropriate landlord.
"In this instance we offered accommodation in April which was unfortunately declined because of the location."
In these confusing and worrying times, local journalism is more vital than ever. Thanks to everyone who helps us ask the questions that matter by taking out a subscription or buying a paper. We stand together. Liam Hoden, editor.