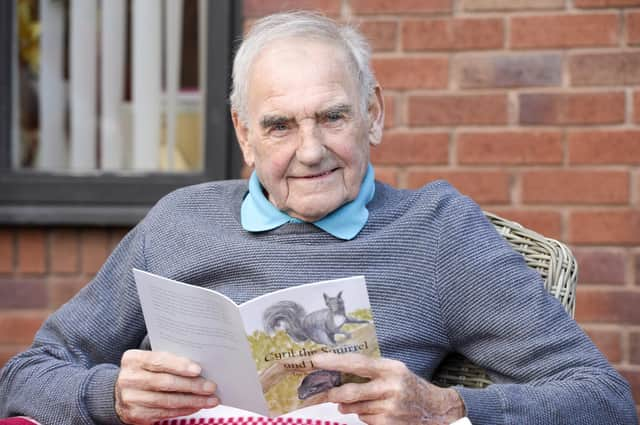 Adrian Slack and his book Cyril the Squirrel, of which he will donate proceeds from the sales to support Hazel ward and its staff.
Adrian Slack, was recovering in Tickhill Hospital's Hazel ward after a knee operation, following a fall at home in Branton, when he noticed a furry movement in the grounds, inspiring him to develop his first book.
The former miner, who is registered blind, was helped by ward staff to write and publish Cyril the Squirrel, which has been illustrated by Balby-based artist Charlie Wright.
Adrian, who now resides at Dunniwood Lodge care home, Bessacarr, said: "I went down one morning for my breakfast and I looked outside and there was a squirrel sat on the bench, and he ran off and I thought, 'he's trying to escape'. It all started from that.
"The girl who has the adventure in the book, Sharon Evans, was working on the ward and I mentioned the squirrel and I said I would write a story about it.
"She asked if I could, because I am registered blind and am deaf as well, so I can't see or hear.
"I started off by thinking up the story – what's he doing here, why is he here, and what does he do?
"I didn't actually write anything, I would tell Sharon the story and she would write it, taking it home and copying it on the computer."
Each morning, a daily instalment was read out to the ward's patients' activities group – although Adrian remained anonymous as to who the author was until the story was complete.
The book follows Sharon and Cyril on an adventure, and includes all the characters and animals they meet along the way – including a butterfly called Billy, and a family of truffle pigs.
The story also includes numerous references to the Doncaster area, and the history of the town.
Adrian, a former miner of 35 years, said: "I even sent Billy and Cyril to the St Leger, to watch the horse racing."
Proceeds from the book will go to Hazel ward and its staff, as a thank you from Adrian 'for the wonderful care' he received.
In these confusing and worrying times, local journalism is more vital than ever. Thanks to everyone who helps us ask the questions that matter by taking out a subscription or buying a paper. We stand together. Nancy Fielder, editor.