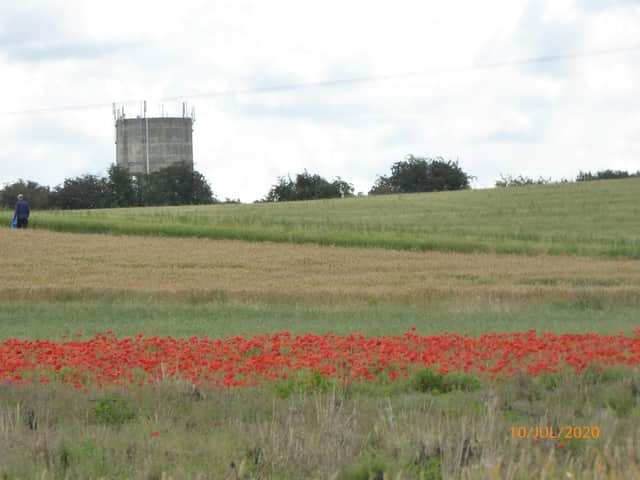 Enjoy a walk around Epworth
Well, writes Peter Rowsell, of Doncaster Ramblers, Epworth itself is worth a visit, with its long history and association with Methodism, while the walk is mostly flat, with the odd navigation challenge, and crops as far as the eye can see, plus two splendid old windmills.
I began on Vinegarth a quiet cul-de-sac at the edge of the village, but the aim is to get to Greengate and head south to reach Rectory Street.
Almost directly opposite, slightly off to the right, take the footpath south.
1. You are now on the Peatland Way. After 420 metres, turn right and continue in a westerly direction first crossing Burnham Road then passing a cemetery on the right before reaching, after 500m, a crossing of paths.
The Ordnance Survey map shows the footpath heading diagonally across the field, but the route has been diverted right, then left around the field edge.
2. Turn left then immediately right to head in a westerly direction again and after 210m go through the old underpass and continue in the same direction for 670m to reach Turbary Road.
At a T-junction 660m on, turn right, Carrside, then after 180m left and follow the wide footpath along the edge of Epworth Turbary Nature Reserve, until eventually turning right and right again after 640m. You are now about halfway around and heading back.
3. Continue in an easterly direction for half-a-mile with stream/drain on left when the path turns left-right to continue for another 640m to reach West End Road. Turn left and after 65m right.
In 110m, there is a T-junction, turn right, and continue for 145m turn left and follow the path and swing to the right, reaching after 225m another T-junction.
Follow the path as it climbs slightly uphill, joining Peatland Way at the summit.
4. Continue on the Peatland Way for about 450m enjoying the view of two splendid windmills before reaching the A161.
Turn right then almost directly opposite the second windmill turn left and continue along the Peatland Way as it turns right heading south to merge shortly after with Hollingsworth Lane and the start of the walk
This would make a great day out, a mid-morning ramble followed by an afternoon stroll around Epworth.
Following the easing of lockdown restrictions, Doncaster Ramblers has restarted a series of walks.
A spokesman said: "Given the current Covid-19 restrictions, these walks will operate under specific guidelines in order to maintain health and safety standards.
"Places on walks must be booked in advance. Appropriate social distancing should be maintained."