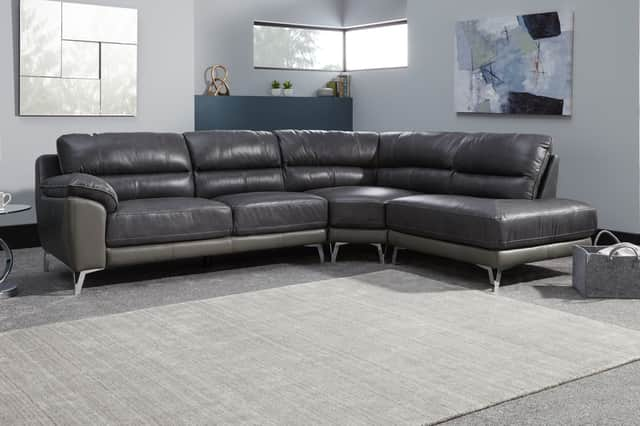 There is nothing quite like moving into a house and transforming it into your very own home. When it comes to new and exciting experiences, moving into your first home comes top of the list.
As you frame your favourite photos, pick up tester paints and buy cute home accessories, it can be easy to forget that space is something we often have to compromise on in our first home.
The living room in particular is an area that can end up looking cluttered and cramped. Here, sofa and carpet specialist, ScS, advises on how you can make the most of the space in your living room.
Choosing your perfect sofa
The humble sofa is among the best-loved pieces of furniture and the perfect suite can quickly turn a house into a home. Whether you're moving into a cosy cottage with quirky rooms and low ceilings, or a brand new house with large windows and square rooms, choosing the right sofa for your living room is important.
Measuring your living space before shopping for your new suite is a great way to ensure that your new sofa will fit, but will also help you visualise the flow and layout of your living space once your new sofa arrives. For instance, a corner sofa may be a better solution than a three and two seater sofa for a smaller living room, creating the illusion of more floor space.
When you're looking at living room furniture, each sofa range often comes in a variety of styles and sizes so you're likely to find something to suit your room and tastes. Work with your space and being prepared with your measurements can help both you and the sofa specialist identify the best solution for you.
Positioning your furniture
Where you place your new sofa in your living room will make all the difference. If your space is small and cosy, try to frame the room with your furniture to make it appear larger. If you're lucky enough to have a lot of space in your living room, leaving a gap behind your sofa can give your room more depth, will also allow you a little more space to move around in, and it will make your sofa a grand statement and focal point.
For the ultimate relaxing living space, Feng Shui experts from Wu Wei Wisdom suggest that you make sure your sofa and furniture are not positioned too close to the doorway as this can affect the flow of Qi (chi) as it enters the room. Experts believe that feng shui is important to ensure that your home's energy is smooth and harmonious.
Consider the angles of your suite too. We often feel that furniture should be positioned in straight lines in our living room, but placing your sofa at an angle can create a cosy focal point in your room.
Selecting the perfect shade and material
The perfect colour and material of your sofa can help a small space feel more light and airy and a large space feel more homely. Your fabric choice is a decision best done on lifestyle needs. Fabric sofas can offer warmth and cosiness, and leather sofas have the additional benefits of being more durable, easy clean and sleek.
If you have a small living room, a lighter or natural coloured sofa will help to make your room feel more spacious and airy. Opt for a sofa that will work well with the colour and décor in your living room too, and remember that your chosen sofa will probably need to work with a variety of colour schemesduring its lifetime!
Adding those finishing touches
One of the most exciting parts of moving into your first home is having the opportunity to make it your own with accessories and finishing touches.
Take the time to research the latest home trends and styles to inspire you as you transform your home. While it's great to buy a few accessories in the run up to your moving date, to give your house that homely feel, you don't need to buy everything at once. Allow yourself time to grow in your home and develop your own style.
For a smaller living room, stick with the basics when it comes to accessories. Simple but elegant decorations such as sleek mirrors and modest photo frames will complement your space perfectly without making it look cluttered. And, it's well worth investing a little time keeping your sofa looking great, with regular styling of the cushions, and you may like to add a chunky knit throw for those colder nights and to protect your investment.
Simon Nicholson, Furniture Buying Director at ScS, said: "Moving into a new home is such an exciting time and there are so many different aspects to consider. It's always beneficial to be familiar with the space and size of your living room before you start shopping for furniture and we'd recommend always visiting a store to try out different sofa styles and get some advice from our specialists before you make a final decision."