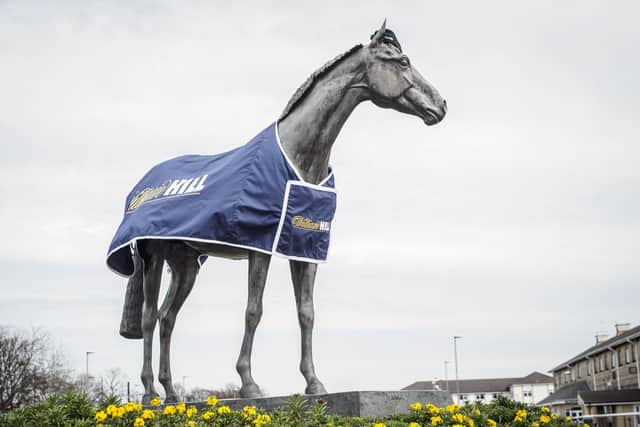 The statue of Double Trigger at Doncaster Racecourse.
The popular stayer won the Doncaster Cup three times in the 1990s and also triumphed in the 1995 Ascot Gold Cup.
He died of a suspected heart attack at Clarendon Stud Farm in Wiltshire on Sunday morning.
John Haydon of Clarendon Farm told the Racing Post: "Ron Huggins, who continued to be involved with Double Trigger throughout his life, bought him as a yearling, and he went on to become the top stayer of his generation, with the Ascot Gold Cup being the highlight of his career, trained by Mark Johnston."
Johnston said: "It seems that, no matter what champions I trained or might be lucky enough to train in future, I will always be remembered more for having trained Double Trigger than for anything else.
"He captured the public's imagination like no other animal that I have been associated with, and rightly so."
He added: "His career as a stallion inevitably revolved around jump racing and he didn't scale any great heights. But it was a long and productive career at stud with the couple who kept him in his retirement."
Double Trigger, foaled in 1991, was bred in Ireland, but trained in the United Kingdom throughout his racing career, which lasted from 1993 to 1998.
He is best known for winning twelve group races, including the Stayers' Triple Crown in 1995 and his most regular jockey was Jason Weaver, who rode him in 21 of his 29 starts.
He was an easily recognisable horse, being a light chestnut with a broad white blaze and a front-running racing style.
In 1994, he finished third in the St Leger at Doncaster and in 1995 won the Stayers' Triple Crown of the Ascot, Goodwood and Doncaster Cups.
He won the Doncaster Cup again in 1996 and completed a hat trick of wins in 1998 and was honoured with a statue at Doncaster.
Train operator GNER also named a locomotive after the horse in 1999.