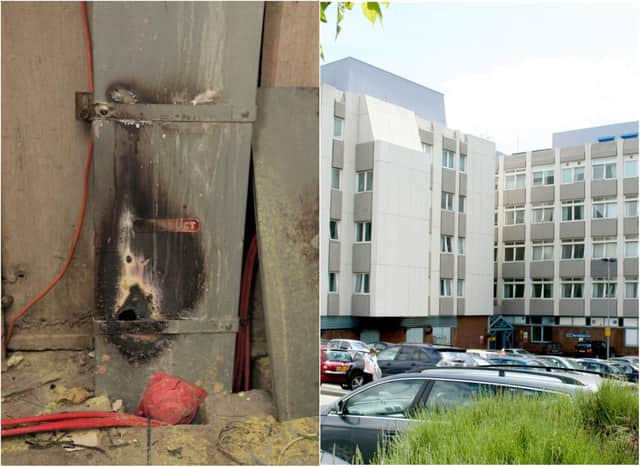 The blackened remains of the water damaged power box at Doncaster Royal Infirmary which caused a mass evacuation.
Mums and newborn babies had to be transferred to other wards and hopsitals on Tuesday night and appointments had to be cancelled after water cascaded through ceilings and floors at the Women's Hospital.
Now hospital bosses have released a photo of a blown electrical supply box after the water leak blacked out power across the hospital.
A spokesman said: "And here is the culprit.
"Due to a leak at the top of the Women's and Children's Hospital at Doncaster Royal Infirmary water made its way down into the building, unfortunately meeting with the electrical mains.
"The result was a loss of power and, as such, some extensive repairs required to the electrical infrastructure on one side of the Women's and Children's Hospital.
"Colleagues responded incredibly well to this challenge and thankfully nobody was hurt. We are working hard to safely restore services to the area."
Six fire engines raced to the hospital shortly after 5pm on Tuesday as reports came in.
False reports circulated on social media of floors collapsing and a major fire, but hospital chiefs later confirmed that the cause of the disruption was the huge water leak.
Nearly 70 patients had to be evacuated and appointments were cancelled at the hospital yesterday following the leak.
A spokesman for the hospital has said a full investigation has been launched into the incident.