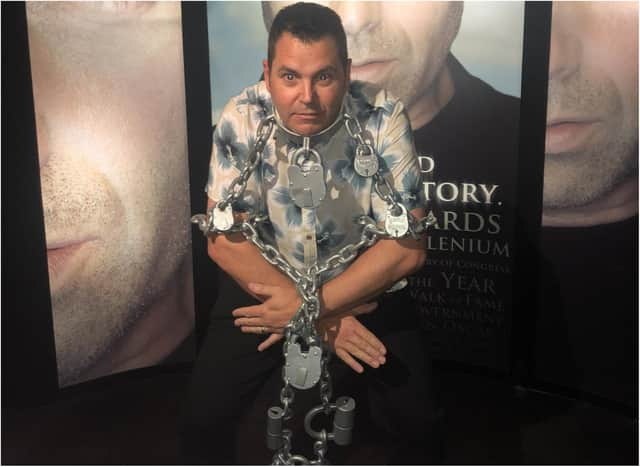 Allan Taylor will spend 24 hours locked in handcuffs.
Magician Allan Taylor will go into lockdown of a very different kind this Friday when he will be shackled at Doncaster's Restraint Museum for a full 24 hours.
During his 'arrest' he will be attempting to take on a number of every day challenges as well as some more weird and wonderful tasks, all the time raising money for The Prince of Wales Hospice in Pontefract.
He said: "Being restrained for 24 hours will be tough.
"It will be very uncomfortable both physically and mentally and panic may set in.
"As an escape artist my job is normally to escape as quickly as possible. I fear that this challenge will be extremely difficult."
Mr Taylor, a historian on legendary escape artist Harry Houdini and Chairman of The United Kingdom Escape Artists, will be shackled by Jake Bullett, owner of the Doncaster Restraint Museum, which has more than 300 restraint systems from all over the globe.
The museum, which is open to the public, is based at Woodfield Plantation and boasts cuffs from across the world including thumb cuffs, handcuffs, leg irons and transport systems.
Added Mr Taylor: "Jake has assured me that he will use restraints that are impossible to escape from even if I wanted to!"
He will go about his daily duties and will be posting videos and photos throughout the day including challenges such as walking on broken glass and mowing the lawn.
You can donate to his appeal HERE