Doncaster sticker seller Phillip Hartley travels to London for anti-lockdown demonstration
Conspiracy theorist and Doncaster sticker seller Phillip Hartley travelled to London to take part in this weekend's anti-lockdown march, he has revealed on his social media.
Monday, 22nd March 2021, 8:49 am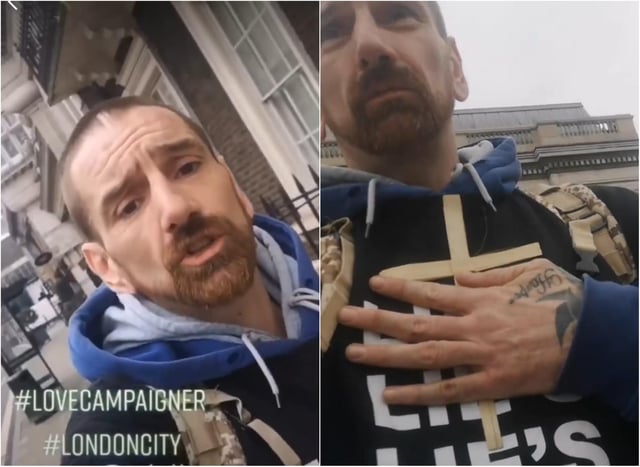 Doncaster man Phillip Hartley, who also uses the name Phillip L'Estrange and calls himself the #lovecampaigner, filmed himself at an anti-lockdown demonstration in London.
Mr Hartley, who calls himself the #lovecampaigner, was among thousands who gathered in Trafalgar Square on Saturday to protest against the coronavirus lockdown.
36 arrests were made at the demo, where protestors ignored social distancing, refused to wear masks and carried placards describing Covid-19 as a hoax.
Mr Hartley, who also uses the name Phillip L'Estrange, shared videos of himself in Trafalgar Square on TikTok, YouTube and Instagram.
In one clip, the 37-year-old of Christ Church Road told the camera: "I'm in London in the midst of a pandemic – plannedemic – and there's people living on the streets, so how the **** can there be a deadly disease about?"
Dressed in a blue hoodie with black t-shirt on top with the slogan Lie's Lie's Lie's (sic) and clutching a copy of the Bible, in another clip he said: "I'm not a criminal. I don't adhere to this tyranny."
And in another he said: "It's the best demonstration I've ever attended. I went and blessed everyone attending and blessed the entire site.
"Those people hating on me, there's something wrong with you, not me. You're just wasting your energy as I'm going to continue doing what I do."
He was sent letters by South Yorkshire Police who suspected him of travelling to sell his stickers.
Thousands of people joined Saturday's demonstration, which travelled from Hyde Park to St Paul's Cathedral and back to Westminster, ahead of the anniversary of the first UK lockdown which began on March 23 last year.
Among those also attending the march were controversial actor Laurence Fox and Piers Corbyn, brother of the former Labour Party leader Jeremy.