Woman hit about the head in unprovoked Doncaster town centre attack
A Doncaster woman has been left bruised and shaken after she was attacked in the street in broad daylight.
Tuesday, 22nd June 2021, 10:30 am
Husband and wife Alison and Ian Blaylock, who own Doncaster Brewery & Tap, were walking along Netherhall Road with their son at 8.20pm last night when the incident occurred.
Ian explained: "Whilst walking home along Netherhall Road the footpath was blocked by parked vehicles so we walked on the carriageway, a privileged Jaguar owner took offence at this, though there was plenty of space to pass us, whence an altracation ensued with said owner blocking our passage so I squeezed through the gap dislodging his mirror.
"He cleared the carriageway and stopped, then invited me to step into an alley for a chat, obviously I declined and suggested we chat in the street, whereupon a totally random female set upon my wife hitting her about the head.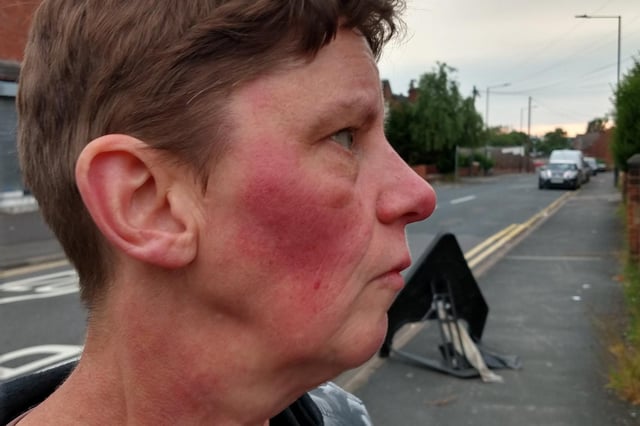 The incident left Alison shaken and bruised
"My son and myself intervened and she fell on the floor crying 'don't hit me', once she regained her feet she then took another swing and cut my wife's face.
"All this happened whilst said Jag occupants looked on with the comment 'see what you get for not using the pavement'."
He added: "Alison is shaken and bruised, she will be fine I'm sure, but these things should not happen, ever."
In a Tweet, South Yorkshire Poice said: "This sounds like a very upsetting incident and we want to offer support. You can report online via our website smartcontact.southyorkshire.police.uk. You can find the details of your local neighbourhood policing team by searching on our homepage. Hope your wife is OK this morning."
The bruising following the attack
In these confusing and worrying times, local journalism is more vital than ever. Thanks to everyone who helps us ask the questions that matter by taking out a subscription or buying a paper. We stand together. Liam Hoden, editor.