Residents fear for their lives after cars torched at Doncaster flats
Residents say it is only a matter of time before somebody is seriously injured after two cars were set on fire in two separate incidents at a Doncaster flats complex.
Tuesday, 22nd June 2021, 2:17 pm
Police have moved to reassure tenants after one car exploded and another was destroyed in the attacks at Concorde Mews Broxholme Lane on Thursday and Friday (June 17-18).
Long suffering residents say the attacks were by rival drug dealers carrying out a turf war in the area.
One occupant who did not want to be identified said: "It started off with drug dealing and it's got out of hand.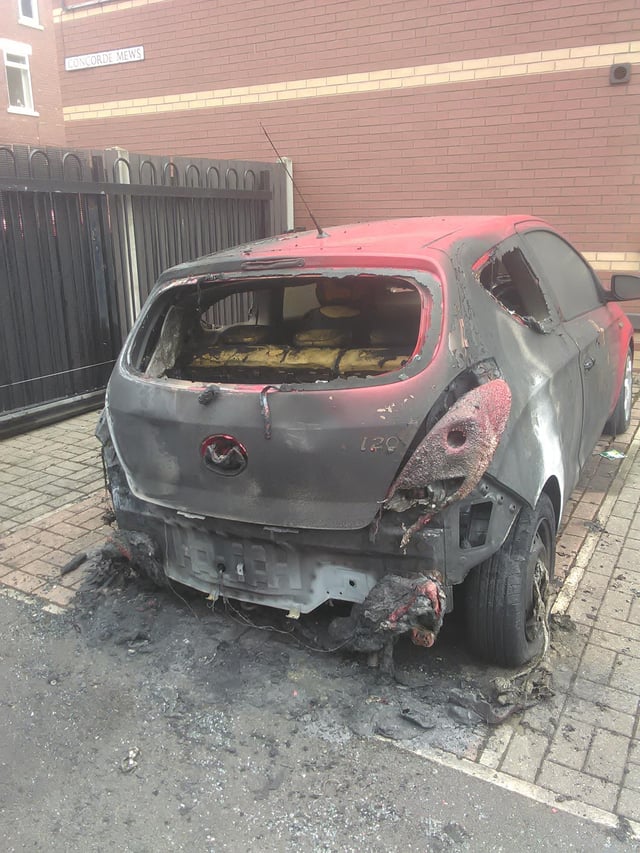 One of two cars torched at a Doncaster flats complex.
"It's been raided by the police. All the residents have had enough. It's become a nightmare.
The resident said: "One of the cars blew up and melted a window pane. One person had to be taken to hospital after he was burned when the car exploded.
"We have heard the drug dealers are threatening to set fire to the flats themselves. All our lives are at risk – my anxiety has gone sky high."
A Police spokesperson confirmed two investigations are underway after separate vehicles were reportedly set alight in Broxholme Lane, Balby, Doncaster.
One of two cars set on fire at a Doncster flats complex.
She said; "At 11.10pm on 17 June, police were alerted to a silver car on fire outside Concorde Mews. At 1.20am on 19 June, police were called to a second incident at the flats after another car had reportedly been set alight.
Police are currently working to explore whether the incidents are linked.
Inspector for Doncaster Central Neighbourhood Policing Team Mark Payling said: "We've listened to the concerns raised by residents of Concorde Mews and I can offer assurance that we have a robust action plan in place. This includes an investigation into the circumstances surrounding recent incidents, increased area patrols and information gathering that will allow us to identify potential offenders. We are also working in partnership with DMBC and the housing provider to ensure an effective, joined up approach.
"I appeal to anyone who has information that may help to come forward and tell us what you know. You can call 101 quoting incident 1079 of 17 June. Alternatively, you can stay completely anonymous by calling Crimestoppers on 0800 555 111"
A Yorkshire Housing spokesperson said:   
"We're working closely with South Yorkshire Police, the Fire Service and Doncaster council to take action against those responsible for alleged criminal and anti-social behaviour at Concorde Mews.
"We've started legal action to take back possession of the property and last Friday obtained an injunction to stop the anti-social behaviour.
"We understand this is a very difficult situation for those living at Concorde Mews and we're taking direct action to resolve this. We're increasing security around our homes with assistance from our partner agencies.
"The safety of our customers' is our top priority, and we will not tolerate anti-social or criminal behaviour in our properties."
A fire service spokesperson added: "Arson attacks such as these take up a large amount of our resources when they could be needed at life-threatening emergencies. These fires have the potential to spread to properties and could put life at risk.
"If residents have any information about people starting fires in their area, they can call FireStoppers anonymously, on 0800 169 5558."