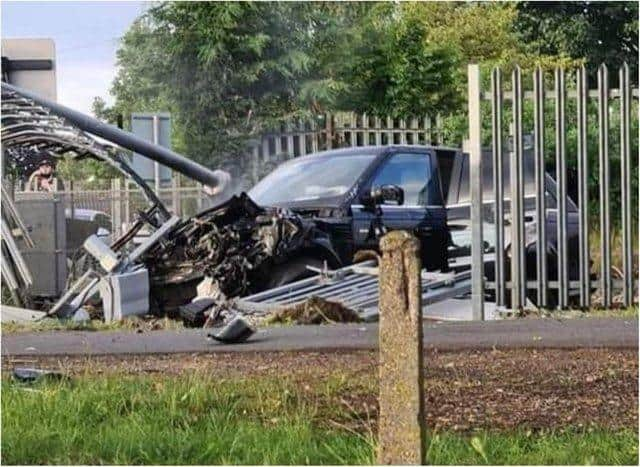 The wreckage of the Range Rover that smashed into a train in Doncaster.
The Range Rover was hit by a high speed train in Rossington after it breached the level crossing after the barriers were lowered, on June 13.
Miraculously, the train did not leave the tracks, and only minor injuries were reported.
The car driver climbed free of the wreckage and fled.
He was later arrested and charged with attempting to pervert the course of justice, dangerous driving and failing to stop after an accident and remanded in custody to appear at Doncaster Magistrates Court.
Network Rail estimate the cost of damage and disruption to exceed £1 million.
More than 100 vehicles were stopped in a day of action in Intake Hexthorpe and Rossington on June 22 . There were two arrests, six vehicles seized for no insurance or driving licence, one prohibition notice and a person reported for having a bladed article.
A raid at an empty house in Hexthorpe on May 28 uncovered a cannabis set up with 40 plants.
Two people were arrested after a burglary in Littlemoor Lane Balby, where a car was stolen .
In other work, we received reports of overnight burglaries and suspects trying multiple vehicles in Intake. Two females were arrested and officers pursued male through gardens who was tasered and arrested. A fourth person was caught hiding in a garden with suspected stolen property. All four were charged and enquiries are ongoing.
Elsewhere, in Town Ward, on June 4 a male was remanded and charged with cannabis cultivation after a raid found cannabis plants on Park Road.
On June 5 , offenders in balaclavas riding motorbikes were alleged to have assaulted a man in the town centre while trying to steal his bike. One of the suspects had also stolen bikes in Armthorpe and Wheatley, where a man was assaulted. A man was arrested on suspicion of robbery and a stolen bike recovered.
We arrested a on suspicion of possession to supply after a search by PCSOs found four bags of spice, around 10 wraps of heroin and £700 in cash on him.
Finally, our next Facebook engagement event is on Thursday June 24 from 5.30pm until 6.30pm.