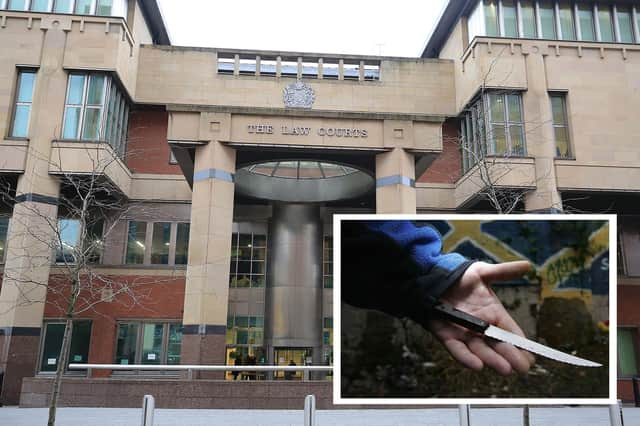 A knife-wielding jealous man who stabbed his friend has been given a custodial sentence at Sheffield Crown Court, pictured.
Michal Jeroch, aged 34, of Baxter Avenue, Wheatley, Doncaster, burst into his friend's room at his flat armed with a knife and repeatedly stabbed him in the legs, according to a Sheffield Crown Court hearing on July 14.
Recorder Richard Wright QC told Jeroch: "You deliberately armed yourself with a knife and used that knife to attack your friend.
"You used the weapon to inflict a number of injuries to his legs. They were significant injuries that required hospital treatment and that treatment was in the form of stitches – in excess of 30.
"You attacked him deliberately because you were jealous and there was an element of premeditation to that attack and it was certainly sustained and the consequences could have been far worse."
Alex Menary, prosecuting, said the defendant and his girlfriend had been living at the flat with the complainant and he had gone out but returned and headed straight to the complainant's room before going to the kitchen and returning with a knife.
Mr Menary added the defendant accused the complainant of sleeping with his girlfriend and he began to attack him during the incident in October, last year.
The complainant initially managed to evade the knife and tried to drag Jeroch out of his room, according to Mr Menary, but the defendant began stabbing him and caused a significant number of injuries.
The court heard Jeroch calmed down and helped stem the flow of blood before the police were called and the complainant was treated with 35 stitches in his legs at Doncaster Royal Infirmary.
Warehouse worker Jeroch, who has no previous convictions, pleaded guilty to causing unlawful wounding.
Edward Moss, defending, said Jeroch - who is now drink-and-drug-free - helped the complainant immediately after the attack and he regrets the loss of their friendship and has expressed genuine remorse.
Mr Moss said: "His desire is to finish whatever sentence he gets today and go back to work and put this matter behind him."
Recorder Wright sentenced Jeroch to two-and-a-half years of custody.