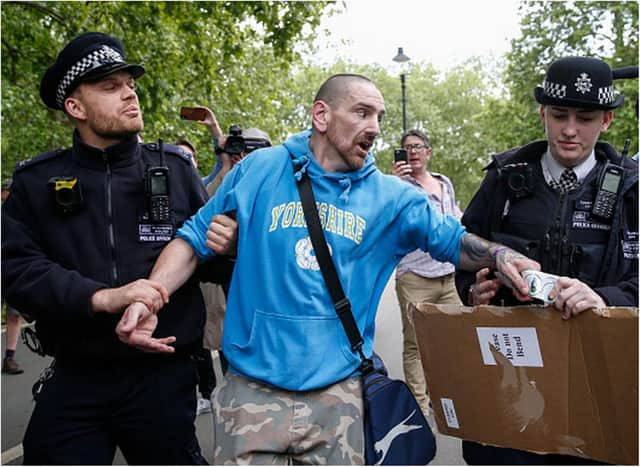 Phillip Hartley, who has given himself the title of the #lovecampaigner, was arrested at an anti-lockdown demo in London last year.
Phillip Anthony Hartley, 37, appeared at City of London Magistrates Court yesterday after he was arrested at a demonstration in Hyde Park on May 16 last year.
Hartley, of Christ Church Road, denied one count of participating in a gathering in public of more than two people in England during the coronavirus emergency period by attending the demonstration where protesters called Covid a hoax and also protested against pandemic restrictions, 5G phone masts and vaccines.
He was ordered to pay fines and costs totalling £222.
Hartley, who also uses the name Phillip L'Estrange and describes himself as the #lovecampaigner, was among a number of arrests at the 200-strong gathering and appeared in court after refusing a £50 fine.
At an earlier hearing, Judge Nicholas Rimmer told Hartley there were a number of exceptions to coronavirus restrictions, naming funerals and house-movers, but declared 'none applied to the facts of this case.'
He added: 'I do not find... that any defendant had a reasonable excuse either to breach the regulations in the first place... or for contravening police directions or for failing to comply with reasonable instructions once they were given.'
Hartley maintained that he had only attended the demo to hand out stickers with "f*** coronavirus" printed on them, to "bless people in Jesus's name" and to give out "free hugs and love."
Hartley was also conditionally discharged for 12 months, meaning that no further action will be taken unless a further offence is committed in the next 12 months.