Doncaster Council blasts 'mindless violence' after tree snapped in half in park
Doncaster Council has said 'mindless violence' is behind a young tree being snapped in half in a park.
Tuesday, 27th April 2021, 10:04 am
The authority shared a photo of the destroyed sapling on Town Fields – and has urged people to report the culprits.
A DMBC spokesman said: "We're sad to say that unbelievably it's happened again - this mindless violence was reported to us over the weekend.
"Please always report this kind of environmental crime, especially if you see any suspicious behaviour."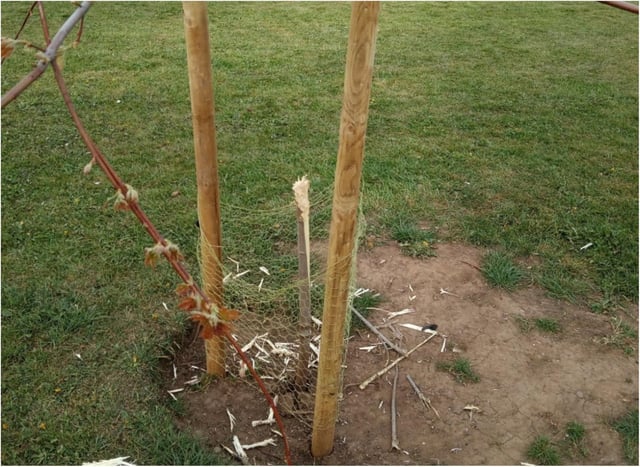 The remains of the sapling snapped in half. (Photo: Doncaster Council).
In recent weeks, a dedicated group of volunteers called Friends of Town Fields has been working to improve the area by sprucing up facilities and help to protect a number of new trees planted by the council.
Founding member and chairman Alastair Lang, who lives just round the corner near Town Moor Avenue, has been a regular user of the park for 20 years and said: "Three weeks ago, there were a few of us who walk our dogs on Town Field and were concerned about several things we had seen happening.
"The council has been doing some improvement work down there, planting new trees and putting in place new bins. There seemed to be one or two things that were going wrong.
"The council had been replacing trees that had been lost," Alastair said. "They planted quite a lot, and also planted them in Elmfield Park and Regent Square.
"But some of them were being destroyed. We think it may have been an aggressive dog that had been wrecking them by biting through the stems.
"In around a week, or 10 days, we'd seen six trees destroyed. They were 10ft high saplings that only had thin stems.
"So we looked around our garages to see what we could find. We came up with some black sacking and some wire mesh. We used those to wrap around the three posts that are placed around each tree. It provides an extra barrier. We are hoping it protects the trees."