Anger after trees uprooted and football litter dumped at popular Doncaster park
Volunteers at a popular Doncaster park have blasted yobs who snapped and uprooted trees and footballers who dumped litter in separate incidents of anti-social behaviour.
Thursday, 8th April 2021, 7:40 am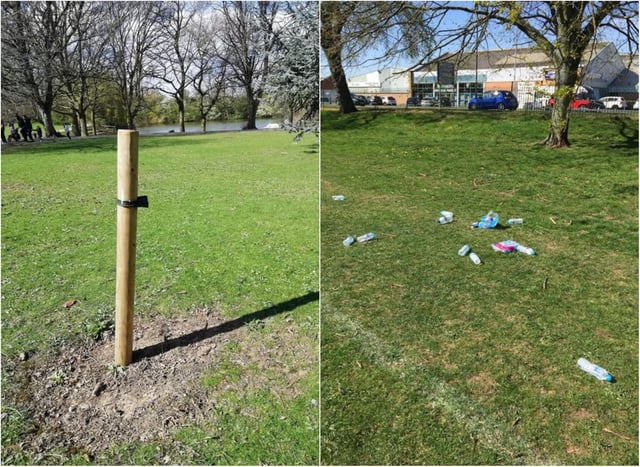 Trees have been damaged and litter dumped in Sandall Park. (Photo: FOSP).
Sandall Park has been subjected to a number of vandal attacks in recent weeks – and in the latest incident, a number of young trees have been snapped or pulled up.
And in a separate incident, dozens of plastic bottles were left behind following organised football matches in the park at the weekend.
Friends of Sandall Park, the volunteer group which looks after the park, said in a Facebook post: "It seems to be the season for destroying trees.
"The four trees on the golf course that the Junior Rangers planted were all snapped off and now they've been pulled up.
"A tree on the roundabout has been snapped off at the base.
"It's's so sad. Do these criminals stop to think how bare the park would look without its trees? Possibly not."
The group also took a swipe at rubbish left behind following weekend football matches.
"Football matches can be played again - great!
"Not so great is the scene that will greet park users every Sunday morning now - when the footballers leave.
"And before anyone says 'you can't blame all footballers and their families/supporters' no we can't. But we CAN say that every Sunday when there's football on the pitches in the park, there are pop and water bottles left. Without exception. And these were adult teams. It's not acceptable.
"Perhaps if volunteers didn't clear away their rubbish, there'd be complaints the following Sunday when the pitch would have to be cleared of rubbish?"