Couple's anger after pet dog suffers broken leg in Doncaster 'hit and run' smash
A couple have been left facing a £4,000 bill after their pet greyhound's dog was broken in a 'hit and run' smash with a car in Doncaster town centre.
Friday, 18th June 2021, 11:35 am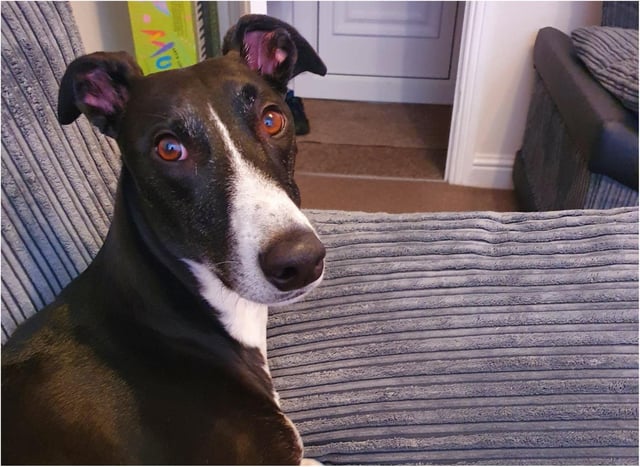 Three year old greyhound Fenton suffered a broken leg.
Tarsha Broadley and Gareth Thompson are appealing for the public's help in tracing the driver of a car who failed to stop after reportedly hitting their three year-old black and white greyhound Fenton on Church Way on Tuesday night.
The pair had been visiting the nearby Black Bull pub when the collision happened.
Said Gareth, who lives in Thorne: "We'd only been there a little while. I'd let him off the lead for a bit in the beer garden at the back of the pub.
"He doesn't normally go very far but he wandered out onto the road and got hit by a car. It all happened in a split second.
"We didn't see it, a bystander came to the pub and told us that someone had hit a dog and then drove off.
"Fenton came back into the car park with his leg almost hanging off. He was in a bad way."
The pair rushed the dog to a vet and after a lengthy operation, staff managed to save and pin their pet's leg – but the couple now face a £4,000 bill.
And they are keen to trace the driver of a blue Ford Mondeo, said to be responsible for the collision, which happened at around 7pm on Tuesday near to the Premier Inn.
Added Gareth: "Fortunately, he seems to be on the mend but it will be a long slow recovery process to see how he gets on.
"We want anyone who may have seen or heard anything to get in touch with us."
Under current UK law, drivers are required to report any accident involving a dog to the police, whether the animal is killed or not.
Collisions with horses, cattle, pigs, goats, sheep and donkeys also have to be reported – but anyone hitting a cat does not have to report it.
Anyone who may have witnessed the incident or has any information, can contact Tarsha on 07598988770.