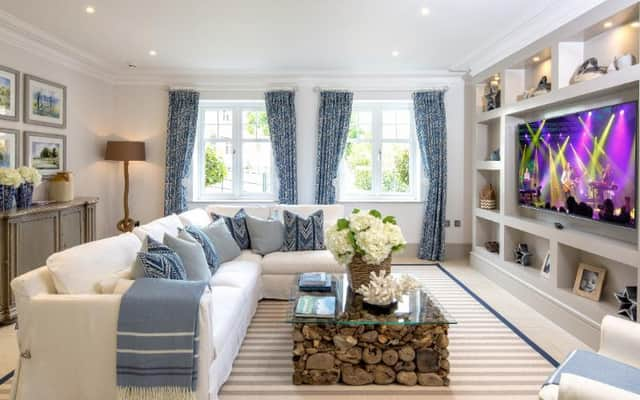 Country home decor is about blending the traditional, rustic charm of your countryside location with contemporary finesse to create a peaceful, welcoming environment in which you feel completely at home and utterly comforted.So how do you achieve the ultimate country home design? Here top interior designers, Alexander James Interior Design, share their favourite tips and tricks to help you get the look.1. A Timeless Colour Combination Tip: The classic combination of crisp blue and brilliant white is a timeless country home decor look. Fresh and utterly charming, you can use this blue and white scheme in your pottery, linens and accessories.This driftwood coffee table with glass top adds yet another of country charm, acting as a stunning statement piece and adding an organic, earthy feel to our living room design. 2. Inspirational Themes from NatureTip: Country home decor would not be complete without bringing themes of nature into the home, referencing inspiration from nature throughout your interiors.In our Cotswolds barn conversion, this avian themed dining area is symbiotically styled with the exterior of the property, reflecting elements of nature throughout and rich character in these bespoke studded dining chairs.3. A Haven of RelaxationTip: When we think of countryside retreats, we imagine escaping the hustle and bustle of modern life, recharging and enjoying a spot of relaxation. Your country home decor must therefore be designed with the utmost relaxation in mind.The gentle tones of ivory and muted teal enhance the light, airy design of our contemporary Surrey barn, creating a haven of relaxation with these luxurious Romo and Zoffany fabric cushions.
4. Organic Elements of Nature
Tip: Incorporate natural elements from the outdoors into your interiors to create an authentic country home decor look. Use organic elements that induce a sense of calm and peace, such as beautiful woods.Styled to its beautiful countryside surroundings, our stunning Cotswolds project brings nature into the interiors with topiary pots, rustic wooden furniture and richly coloured florals and soft furnishings.5. A Warm, Open WelcomeTip: Design every space in your interiors to emit a warm sense of welcome to achieve the perfect country home look. It's the little touches that count; the scented candle emanating a beautiful fragrance throughout the room, the display of magazines on the coffee table and the luxurious throws awaiting an afternoon of reading on the sofa.The rustic kitchen diner setting, antique-style metal framed wall clock and framed prints all add to the country charm in our modern Surrey barn project, whilst the soft colour scheme and vibrant lavender plant offer an enlivening, spring-like feel.
6. An Essential Spot of Luxury
Tip: Just because we associate country home decor with rustic character, doesn't mean that a touch of luxury need be neglected! On the contrary, luxury plays an important role in offering true comfort within a country home.This bespoke ottoman in sumptuous Kirkby Design fabric adds another layer of luxury to the alluring master bedroom in our Cotswolds project.7. The Refreshing Vitality of FloralsBeautiful floral displays will bring another element of nature into your country home decor, invigorating the space with new life and fresh vitality.Traditional yet contemporary, these elegant bobbin chairs and dining table by Julian Chichester rest serenely beneath the high-vaulted oak beams of our rustic Surrey barn project. With ivory tones and magnificent floral display, this design is fresh, light and ethereal in its tranquility.
Tip: A common misconception is that country homes are filled with a multitude of trinkets, furniture and accessories, but this can lead to a confused, chaotic look. Be careful not to clutter your interiors, rather create spaces that are bright and airy, filled with natural light.Brimming with natural light, we designed these vibrant riverside homes to reflect the quaint countryside location, with luxurious Romo fabric cushions, solid oak coffee table and abundant plant displays. For more information please contact Alexander James Interior Design on 020 7887 7604 or visit www.aji.co.uk.