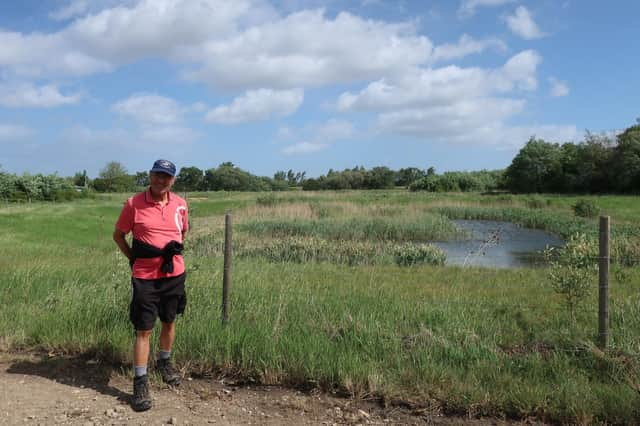 Enjoy a walk around Rossington courtesy of Doncaster Ramblers
It is a seven- mile walk from Rossington, writes Peter Rowsell, of Doncaster Ramblers.
It is essentially a circumnavigation around the Doncaster IPort/Amazon site, on wide shale track.
We begin at St Michael's Church and head west along Station Road passing the roundabout, pub and police station.
1. Just before the level crossing take the footpath right and turn left onto Atterby Drive.
Continue straight heading north onto Toad Holes Lane for quarter of a mile, before crossing a bridge over the River Torne, then turn left.
2. Waymark arrows point to a new path heading over railway line and running parallel to the Great Yorkshire Way.
Follow this for just more than a mile to reach the IPort Roundabout.
At the time of writing, construction work was continuing into making this section a cycle track, but it was open and passable for walkers.
3. Unfortunately, at this point there was no viable way forward, but to cross the bu sy roundabout and continue along a path between the Amazon security fence and the A6182 Great Yorkshire Way.
A high embankment gives shelter from the traffic.
After a quarter of a mile, where a footpath comes through and underpass from the right – which is where you think you maybe should have come – continue straight and follow the path around t o the left, alongside the railway line.
After 240 metres cross the railway bridge and immediately turn left.
4. There now follows a long one-and-a-half-mile stretch of straight, easy-to-follow, easy- underfoot walking.
If you're lucky you may see the occasional swan or duck.
On reaching Carr Bank, turn left and after two-thirds of a mile, reach a footbridge at the base of the spoil heap.
5. There is a footpath, of sorts, that goes up and over, and those in a hurry could try it.
However, we took the path left to walk around the base of the spoil heap first heading south-
east for two-thirds of a mile then turning left for quarter of a mile, then left again – beware of flooding – before turning right and right again to reach the outside of the Burial Grounds.
6. The final stretch takes you one mile along Grange Lane, to reach West Lane and a
right turn, along West Lane and back down Station Road over the level crossing to the start.
The Doncaster Ramblers walk programme is currently suspended.
Alternatively, GPS maps of many of past walks can also be found at the group's Facebook page at fb.com/doncasterramblers