Housebuilder supports Doncaster Mind with £1,000 donation
Local housebuilder, Barratt Developments Yorkshire East, has donated £1,000 as part of its Community Fund initiative to Doncaster Mind, a local mental health charity that helps people in the community who are experiencing mental health difficulties by promoting awareness and aiding personal wellbeing and recovery.
Friday, 4th June 2021, 4:42 pm
Updated
Friday, 4th June 2021, 5:03 pm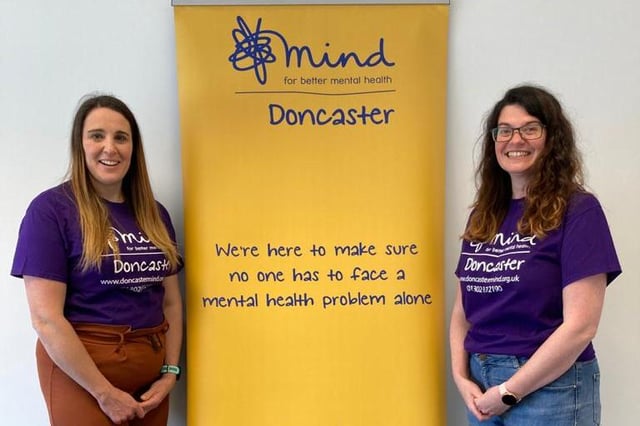 Laura Arthur, Finance and Office Manager and Jenni Hall Wellbeing Group co-ordinator at Mind
The chosen cause, Doncaster Mind is an important mental health charity that offers services to people who are experiencing mental health difficulties. Such services and activities are informed by people with lived experience of mental health difficulties and it is their stories that inspire and drive the charity, with the collective belief of no one should have to face a mental health difficulty alone.
With the help from Barratt Developments Yorkshire East's Community Fund - an initiative that aims to support the communities in which the housebuilder operates with a donation to a different chosen charity each month - Doncaster Mind will use the donation to train additional mentors to help support its vital mentoring project. The mentoring project provides adults who are struggling with their mental health the opportunity to enhance their recovery by working one to one with a mentor to identify meaningful goals and work towards these to enable a more fulfilling life.
Raising awareness around mental health in the construction industry remains a priority for Barratt Developments as recent data from the Home Builders Federation (HBF) outlines that the construction industry is one of the worst affected by mental health due to the number of high risk jobs.
Research found that 56.7% of employees have experienced mental health issues and 63.3% said that they have hidden the real reasons why they have been absent, illustrating that there is still a stigma around mental health.
Daniel Smith, Managing Director at Barratt Developments Yorkshire East commented: "Doncaster Mind does a truly fantastic job in offering its support to those in need, and we hope that our Community Fund donation will help to raise awareness of the charity's very important mission in supporting those struggling with their mental health with its offering of life-saving work across the region, whilst also promoting more discussion around mental well-being within the construction industry."
Laura Arthur, Finance and Office Manager, said: "We are truly thankful to Barratt Developments for the Community Fund donation. It's common knowledge that it's been a difficult time for charities this year, but despite this, we have continued to support people in Doncaster who are experiencing mental health difficulties. Recent research suggests that the changes we have all faced this year will have a lasting impact on the nation's mental health, and so we are incredibly grateful for this donation, which will help us continue to be there for people today, and in the future too."
Barratt Developments Yorkshire East has sites across Doncaster including Park Edge, Torne Farm, Lancaster Gardens and Kings Lodge.
In these confusing and worrying times, local journalism is more vital than ever. Thanks to everyone who helps us ask the questions that matter by taking out a subscription or buying a paper. We stand together. Liam Hoden, editor.