Doncaster residents urged to cut down on food waste
A major campaign to encourage South Yorkshire residents to cut down on foodwaste and save money into the bargain is being launched this week.
Thursday, 24th June 2021, 12:36 pm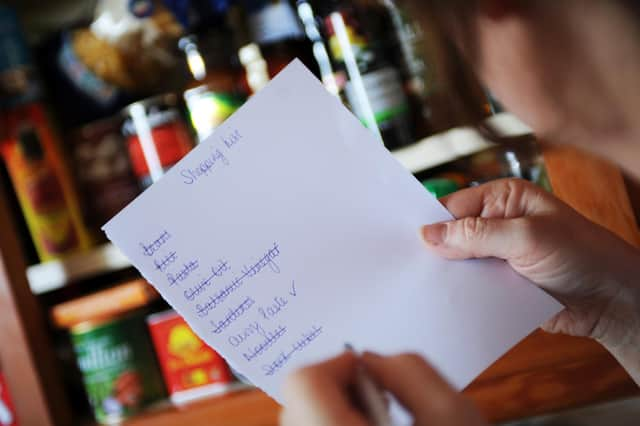 Using a shopping list can help save food waste
One fifth of all the food we buy in the UK goes to waste, harming the environment and our wallets. It is estimated that around two thirds of this food waste could have been avoided with better planning, storage and a little creativity.
Waste Reduction charity WRAP aims to raise awareness of the link between food waste and damage to our planet.
The Love Food Hate Waste call to action is being run locally by the BDR (Barnsley, Doncaster and Rotherham) Waste Partnership and Renewi, the firm behind the award-winning waste treatment facility at Manvers.
Over the next few weeks, the team will be promoting the following important messages to help people cut down on food waste - and save up to £60 a month:
 Planning perfection – planning meals and only buying what is needed
 Knowing your dates – the difference between 'use by' and 'best before'
 Savvy storage – how to store different foods to prolong their life
 Perfect portions – how to avoid cooking too much
 Loving your leftovers – getting creative and finding inspiration
Community Education Liaison Officer, Abi Cox, who is based at Manvers, said previous campaigns have reduced the amount of food waste thrown away in Barnsley, Doncaster and Rotherham by as much as seven per cent.
"This was great, and we want to thank everyone for doing their bit, but we'd like to do even better this year. We know that 81 per cent of citizens are concerned about climate change, but only 37 per cent realise the connection with wasting food," she said.
"There is a huge environmental cost to wasting food. It isn't just about the gases from food rotting in a bin, it's the waste of all the previous resources that it takes to bring that food to your plate – the land, water, energy and hard work.
"Adopting a different mindset about food is the key. Whether you're doing a shop or ordering a meal in a restaurant, every food-based decision is an opportunity to save food from the bin and save money.
"There will always be a small amount of inevitable food waste, and this should be composted or wrapped carefully before being disposed of in household waste bins."
Helpful tips will be posted regularly on social media. Search #LoveFoodHateWasteSY or go to the Waste Less South Yorkshire Facebook,
Twitter and Instagram accounts.
At Waste Less there will be blogs to read, videos to watch and some specially commissioned recipes from Love Food Hate Waste chef Clover Hutson.
In these confusing and worrying times, local journalism is more vital than ever. Thanks to everyone who helps us ask the questions that matter by taking out a subscription or buying a paper. We stand together. Liam Hoden, editor.