Celebrating Doncaster's rich cultural heritage for Black History Month - who can you spot?
Today we are celebrating Doncaster's rich cultural heritage as part of Black History Month.
Monday, 5th October 2020, 12:51 pm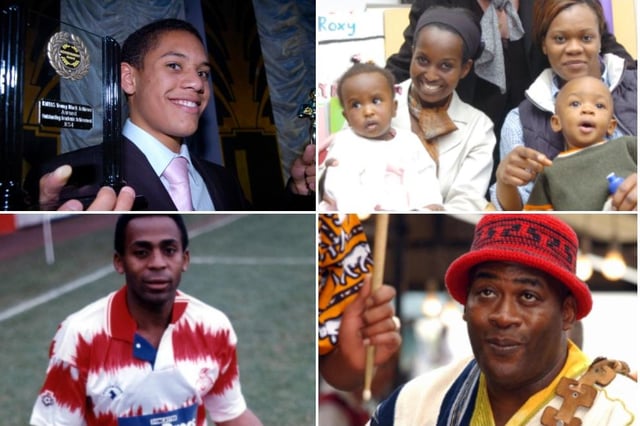 Click through this article to see photos of Doncaster's Black community in the 1990s and 2000s.
Black History Month is marked in October every year.
We have put together a collection of photos to celebrate Doncaster's rich cultural history – click through this article to see.
Callum Thomas at the Young Black Achievers Awards Ceremony at the Earl of Doncaster in 2007.
Follow us on Instagram here to see more retro content.
Thank you to all who support local journalism with a print subscription. The events of 2020 mean trusted, local journalism is more reliant than ever on your support. We couldn't do it without you. Please subscribe here https://www.localsubsplus.co.uk/ so we can keep campaigning on your behalf. Stay safe.
Louise Kankindi with daughter Chloe and Miriam Dicko with son Esdras in 2007.
Black History Week in Doncaster 2003. Professor Gus John, Amit Bhadhuri, Cllr Winter and Trish Campell.
Amuna Ibrahim, Afra and Omar Abdaza pictured at the Black Minority and Ethnic Women's Awards 2006.
A new parenting group opened up in 2007 at the YWCA. Included BME Women's Group chair Louise Kandikini and daughter Chloe.
Simon Black celebrating joining the Doncaster Rovers Team in 1996.
Winners at the Young Black Achievers Awards in 2007.
Mitchell Rose won Outstanding Artists at the Young Black Achievers Award's in 2007.
Five year old Siah Pritchard outside of St George's Church in 2006.
Group called Bonglove Arts perform at the Corn Exchange in 2004. Guitarist Ainsley Pine.
Rover's football player Winston White in 1992.
Ransford Anthony of Balby who took part in the 100m at the English Schools' Athletic Championships in 2007.
Sarah Warner competed in the discuss aged 14 competed in the discuss event at the Lakeside Sports Complex in 2007.
Kemar Edwards an aspiring boxer in 2007.
Juliana and Helena Kouamo, aged 12. Playing football in 2006.