Can you spot yourself in these Sheffield and Doncaster St George's Day celebrations?
April 23 is St George's Day, dedicated to England's patron saint.
Thursday, 23rd April 2020, 6:06 pm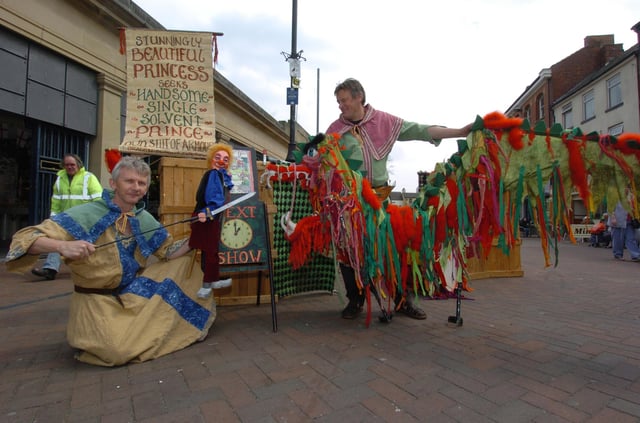 Mel Myland and Tony Nicholson entertain shoppers in Doncaster with their puppet show telling the tale of St George and the Dragon
Here are some pictures of recent past celebrations in Sheffield and Doncaster.
According to English Heritage, St George was probably a Roman officer, not a knight, who is thought to have been born in Cappodocia (now in Turkey) and to have died in Lydda, which was in the Roman province of Palestine, in AD 303. He was martyred for his Christian faith.
The legend of George slaying a dragon doesn't appear until the 13th century.
Pictured at the Devonshire Arms, Ecclesall Road, Sheffield, where landlord and regulars were getting ready to celebrate St George's Day. Seen left to right are landlord James Brown, Lynn Green, Katie Birch, Terry Schofield and Adrian Crutcher.
Venice, Genoa, Portugal and Catalonia also celebrate St George and the day is both the birth date and death date of William Shakespeare.
Sheffield's 2006-7 Lord Mayor Coun Jackie Drayton with musicians outside the town hall, watching dancers celebrate St George's Day
Sheffield's Catalan giants, taking part in the day of dance to celebrate St George's Day. St George is also the patron saint of Catalonia in Spain.
Dance group Lizzie Dripping perform outside Sheffield Town Hall to celebrate St George's Day.
Pictured at the Cenotaph, Barkers Pool, Sheffield, where the 1999-2000 Lord Mayor of Sheffield, Coun Trevor Bagshaw, is seen taking the salute at the St George's Day Parade
A St George's Day Parade make its way towards the Mansion House in Doncaster
Children from 1/36th Doncaster St Peters Beaver Group takes part in a St George's Day parade in Doncaster
Thurnscoe's SureStart Children's Centre Platform Cafe chef James O'Hara cooked different English dishes each day for a week to celebrate St George's Day and the first anniversary of the cafe opening. He is pictured here with a plate of toad in the hole
Coun Val Jennings enjoys a pint of real ale at St George's Day celebrations at Armthorpe Community Centre, Doncaster
Staff and children at Buttons day nursery in Edlington had fun celebrating St George's Day with fancy dress and fun and games. Pictured is Luke Watson, two
Crystal Peaks shopping centre in Sheffield celebrated St George's Day in carnival style and stores from the centre were encouraged to decorate their shops. Pictured is Tricia Riley, manager of the In Time stall
Neil Harrington, of Wombwell, taking part in a Doncaster Classic Car Club St George's Day rally to Elsecar Heritage Centre, with his 1976 Mini Cooper Mark 2