19 pictures to remind you of how great stock car and banger racing was at Sheffield's Owlerton Stadium - who can you spot?
Taking you back to Owlerton Stadium in the 1990s but who can you recognise?
Tuesday, 29th September 2020, 3:00 pm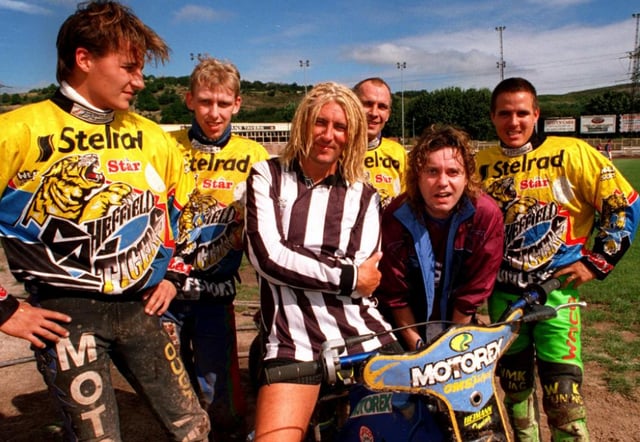 Joe Elliot and Rick Savage with the Star Tiger Speedway Team who provided the entertainment at half time for the charity football match which was raising funds for Hallamshire Hospital Ward in 1997
Did we take your picture during the stock car and banger racing, or maybe you were snapped watching world record attempts or reliant robin races?
A message from the Editor:
Owlerton Stadium memories from the 1990s
Thank you to all who support local journalism with a digital or print subscription to The Star. The events of 2020 mean trusted, local journalism is more reliant than ever on your support. We couldn't do it without you. Subscribe here www.thestar.co.uk/subscriptions so we can keep campaigning on your behalf. Stay safe.
Enjoying the stock car and banger racing in 1997 were Collette Burrows, nine, Joe Burrows, six and Harriet Burrows also six
David Proctor was the managing director of Owlerton Stadium in 1997
Shaun Whitehead with his super saloon for stock car and banger racing in 1997
Pictured is the Racing Director at Owlerton Stadium Jon Carter with greyhound 'Ahnid Knight' in 1997
Kyle Barton checked out the match ball with ex Chesterfield player Ernie Moss before the charity game in his honour kicked off at Owlerton Stadium in 1997.
Stock Car racing was Under Starters Orders again at Owlerton Stadium in 1998, and The Star's Driving Correspondent Adrian Taylor fitted into a car to try it out,with the help of Driver Frankie Wainman
Sheffield Tigers James Birkinshaw at the Owlerton Stadium in 1997
Stock car racer Steve Royston with the car he used at Owlerton Stadium to win in 1998
Buffalo Bill returned to Owlerton Stadium almost 100 years after his first visit in 1999
Max Austin after jumping through a coach in a dummy run of a world record attempt to be staged at Owlerton Stadium in 1999
Stock car racing at Owlerton Stadium.
This youngster enjoyed the racing at Owlerton Stadium in 1999
Andy Holmes, with his Reliant Robin for race-day back in 1999
David Baldwin, Track Manager and Trainer Tony McKenna with 'Almost on Fire' and the Redmill Supertrack Cup at Owlerton Stadium in 1998
Big crashes at the Owlerton Stadium banger racing