13 happy memories on Doncaster's buses from more than 20 years ago - but who can you recognise?
Buses have been part of our community for generations but who can you spot going to work, picking up some shopping or having a day out on Doncaster's buses?
Tuesday, 17th March 2020, 3:30 pm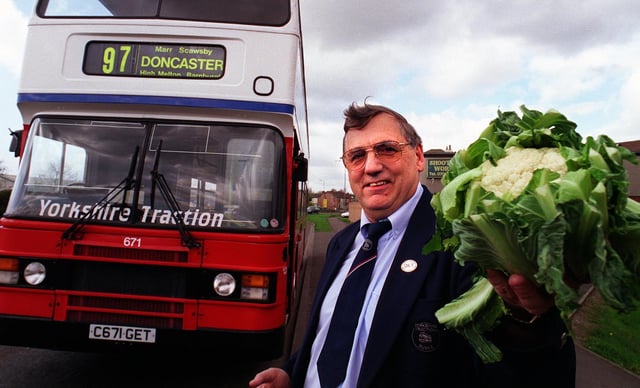 What are you Doncaster bus memories?
Take a look back at these retro pictures of passengers and drivers going back more than 20 years.
Tony Simpson warehouse manager at Asda Bawtry Road with his sponsored pull of a 9.5 ton bus in aid of CHildren in Need back in 1997
Ian Anthony, of Hyde Park, with his winning crime prevention poster which featured on the rear of a Docaster bus in 1997 pictured with Dave Carr
Sheridan and Carl on top of a Doncaster bus on a carousel in 1997
MP Jeff Ennis and South Yorkshire Passenger Transport Executive director general Roy Wicks were joined by local residents and representatives of other organisations involved in the service at the launch at Doncaster's Dome leisure complex in 2001
The Mayor of Doncaster, Councillor Beryl Roberts, launched the Summer Fun Campaign aboard a fun bus in Doncaster in 2001. Our picture shows the Mayor with, from left, Charlotte D' Rozario and Laura Walker, both aged ten, of Sprotbrough, and Corey Millington, aged three, of Skellow.
In 1999 Doncaster Central MP Rosie Winterton, Councillor Tony Corden and First Mainline's John Swann joined shoppers aboard the new bus service which stops at the Tesco store in Edenthorpe. Penioner Edith Broadley was pictured receiving a helping hand from Tesco's Linda Ledger.
Road safety officers, Mike Stanley (Sheffield), Sandra Crofts (Rotherham) and Peter Oliver (Doncaster) pictured in 1999 with one of the new road safety posters on the back of a bus at the Mainline depot, Olive Grove.
Youth workers Nick Fairman (left) and Maria Hollingshead (second left), and area youth workers Karen Smith and Stephen Evans were pictured with the Doncaster youth service double decker bus in 2001
Jarnel Singh celebrated being the first sikh in Doncaster to qualify to drive a mobility bus back in 1998. With him are his instructors Peter Mair and Charles Clark.
Wilfreda Beehive Garage in Adwick Le St Doncaster back in 1998 with Tony Scholey chairman Wilfreda Beehive, musician Peter Jones of the Hatfield Main colliery band who are now sponsored by the bus company, and Sue Scholey chairmans lady
Award winning bus driver Michael Moore on the Mexborough to Doncaster service with some of the produce from his garden for elderly passengers in 1999
Corey Johnson, aged six, of Skellow, with a book from the Doncaster Schools' Library Service bus in 1999
In 1999 First Mainline bus driver Peter Fettis received his certificate from the company's Doncaster Director and General Manager John Swann.